Review + Giveaway: THE SHACK by William P. Young (Christian Suspense)
Christian Mystery/Suspense

Publisher: Windblown Media
Release Date: June 2008

Mackenzie Allen Phillips's youngest daughter, Missy, has been abducted during a family vacation, and evidence that she may have been brutally murdered is found in an abandoned shack deep in the Oregon wilderness. Four years later, in this midst of his great sadness, Mack receives a suspicious note, apparently from God, inviting him back to that shack for a weekend. Against his better judgment he arrives at the shack on wintry afternoon and walks back into his darkest nightmare. What he finds there will change his life forever.
---
About the Author

---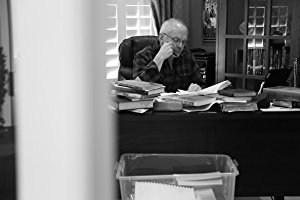 William P. Young was born a Canadian and raised among a Stone Age tribe by his missionary parents in the highlands of former New Guinea. He suffered great loss as a child and young adult and now enjoys the "wastefulness of grace" with his family in the Pacific Northwest. (From the publisher.)
website | facebook | instagram
---
Review by eKelly

---

An unexpected thought-provoking read!
THE SHACK by WM. Paul Young is a stand-alone christian suspense.
I am probably the only person on the planet who thought this was a new release, only to find out it's been out since 2008!  I have no idea how I didn't know this, but 9 years after its release I decided to pick it up because I had a friend tell me this SHACK book was being made into a movie.
I didn't have a clue what this book was about. The only thing I knew was the cover looked eerie, and I assumed it was a mystery/suspense. As it turned out it did have plenty of mystery and suspense but it was mainly of a religious and spiritual context. Lesson learned: don't judge a book by its cover! I have to admit, had I known it was heavy into religion and spiritualism, I would have bypassed this book completely, but I'm glad I didn't. It's my very first spiritual book and it was good!
Mackenzie (Mack) Allen Phillips's youngest daughter, Missy, is abducted while on a family vacation and presumed murdered from bloody evidence found in a remote shack. Since that tragic day, Mack has been debilitated by depression, bitterness, and guilt, which he refers to as The Great Sadness. A religious man, Mack has lost faith in God because he doesn't understand why God wasn't there to protect his little girl, and why God doesn't prevent all the unspeakable horrors in the world. Skip to four years later and he receives an anonymous note in his mailbox asking him to return to The Shack. Thinking it's a sick joke, he's terrified it could be from his daughter's murderer trying to lure him. He borrows his friend's Jeep and handgun and journeys back into the wilderness to The Shack, where he confronts his worst nightmare, ultimately finding peace, forgiveness, and happiness through love and faith in God.
When I got into the first few chapters of this book I stopped and had to look up whether this book was fictional. It started out and remained so real that I kept thinking it was the memories of Mack's vivid dream, or a mental or drug-induced hallucination. Even if you're not spiritual or religious, I think this book would make you really think and wonder and question if you can believe in something that can't be tangibly seen. The story is sad and thought-provoking, and it wraps up nicely with the best happy ending that can come out of the situation where a little girl is abducted and her father beyond heartbroken.
This is a spiritual book. I don't have a good comparison since this is the first in this genre I have ever picked up. Obviously fans of Christian fiction will love this but I think this would appeal to fans of mystery. I think if you enjoyed the movie, WHAT DREAMS MAY COME, you may enjoy this book. This book mentions violence but doesn't contain gory descriptions or lewd language. It's appropriate for readers 13 and older.
THE SHACK earns 4 North of Normal stars!


---
New Giveaway
---
THE SHACK (paperback)

Note: CM McCoy's Contest Policy applies. Rafflecopter terms and conditions also apply. No Purchase necessary to enter. Void where prohibited.
---
Other Current Giveaways
---
Win over $100 in bookish prizes in these current giveaways. But hurry! Some are ending soon!
Note: CM McCoy's Contest Policy applies. Rafflecopter terms and conditions also apply. No Purchase necessary to enter. Void where prohibited.
$25 Amazon Gift Card: https://www.nightowlreviews.com/V5/Blog/Articles/Eerie-25-by-CM-McCoy
$20 PayPal Cash or Amazon Gift Card: http://www.cmmccoy.com/blog/sale-alert-giveaway-eerie-ebook-0-99-till-24-march/
$20 PayPal Cash or Amazon Gift Card: http://www.cmmccoy.com/blog/giveaway-20-paypal-cash/
$20 Amazon Gift Card: http://www.yabookscentral.com/blog/spotlight-on-eerie-by-c-m-mccoy
$10 in Books (Amazon or Book Depository): http://www.cmmccoy.com/blog/review-giveaway-the-deathday-letter-by-shaun-hutchinson/
$10 Amazon Gift Card: http://www.cmmccoy.com/blog/guest-post-giveaway-channeling-your-inner-miss-piggy/
BEAUTIFUL BROKEN GIRLS in hardcover: http://www.cmmccoy.com/blog/2832-2/
Sterling Silver / CZ "Follow Your Heart" Necklace: http://www.cmmccoy.com/blog/cover-reveal-giveaway-the-heartbeat-hypothesis-by-lindsey-frydman-sweet-college-romance/
Sterling Silver Wishbone Pendant Necklace: http://www.cmmccoy.com/blog/first-pages-giveaway-lessons-in-gravity-by-megan-westfield-contemporary-romance/
Recent release/Top Rated Book from CM McCoy's library: http://www.cmmccoy.com/blog/giveaway-instagram-for-book-lovers-3-tips-from-an-expert-no-its-not-me/
Signed Paperback of EERIE (Goodreads Giveaway): https://www.goodreads.com/giveaway/enter_choose_address/217854-eerie
CARAVAL by Stephanie Garber (Hardcover): https://www.instagram.com/p/BQ_BtVulryI/?hl=en
Butterfly Journal: http://www.cmmccoy.com/blog/review-giveaway-the-bone-witch-by-rin-chupeco-teen-high-fantasy/
Choice of book by Lauren Oliver: http://www.cmmccoy.com/blog/review-giveaway-panic-by-lauren-oliver-ya-friendship-fiction/
TEMPEST IN A TEAPOT by Amanda Cooper in paperback: http://www.cmmccoy.com/blog/2845-2/
---