Review + Giveaway: THE BONE WITCH by Rin Chupeco (teen high fantasy)
Genre: Gr 7 and above Teen/Yong Adult high fantasy / witches and wizards
Publisher: Soucebooks Fire / Macmillan (Jan 2017)
Format: eBook (arc) via NetGalley

Summary from Amazon

An Amazon Best Book of the Month!
A Publishers Weekly Most Anticipated Young Adult Book of Spring 2017!
In the captivating start to a new, darkly lyrical fantasy series for readers of Leigh Bardugo and Sabaa Tahir, Tea can raise the dead, but resurrection comes at a price…
Let me be clear: I never intended to raise my brother from his grave, though he may claim otherwise. If there's anything I've learned from him in the years since, it's that the dead hide truths as well as the living.
When Tea accidentally resurrects her brother from the dead, she learns she is different from the other witches in her family. Her gift for necromancy means that she's a bone witch, a title that makes her feared and ostracized by her community. But Tea finds solace and guidance with an older, wiser bone witch, who takes Tea and her brother to another land for training.
In her new home, Tea puts all her energy into becoming an asha―one who can wield elemental magic. But dark forces are approaching quickly, and in the face of danger, Tea will have to overcome her obstacles…and make a powerful choice.
Memoirs of a Geisha meets The Name of the Wind in this brilliant new fantasy series by Rin Chupeco!
---
About the Author
---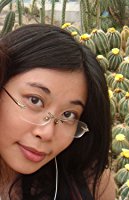 Despite an unsettling resemblance to Japanese revenants, Rin always maintains her sense of hummus. Born and raised in Manila, Philippines, she keeps four pets: a dog, two birds, and a husband. She is represented by Rebecca Podos of the Helen Rees Agency.
---
Review by Frog

---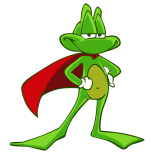 A vividly descriptive high fantasy

THE BONE WITCH by Ren Chupeco is a YA high fantasy (witches) novel with a cliffhanger that promises a sequel.
The eye-catching cover and the ironic opening line of the blurb piqued my curiosity and excited my inner nerd. I requested and received an advance copy eBook from the publisher via NetGalley for review.
In a world of witches, Tea is a teenager who accidentally raises her brother from the dead and thereby discovers she is a highly revered yet highly feared necromancer, who holds the power to save her kingdom from demons at the slow expense of her own life.
The opening line of Chapter One is the opening line of the blurb, and in my opinion, the best line in this book:
Let me be clear: I never intended to raise my brother from his grave, though he may claim otherwise.
That line! I loved it! And I had high hopes, VERY high hopes of an enchanting, engaging tale, but that one fantastic line proved to be not only an empty promise of an ironically humorous sister-dead-brother dynamic, but sadly, it was also by far most interesting piece of this 400+-page book. It's a great sales line, but the irony there is certainly not indicative of the pages that follow. Though the writing is beautiful, the alternating chapters of Tea's past and present serve up a constantly interrupted tale that effectively sucks this story dry of adrenaline. Most disappointing was the utter lack of plot, the omission of Tea actually accomplishing (or not accomplishing) any sort of goal, and the endless reminders that Tea is a special sort of witch. Together, this formed a perfect storm of no-connection-whatsoever to Tea and threw my skim engine into high gear.
Readers will easily know from the prologue (available as a free sample on Amazon–just click here) whether this is a tale they'll love or not love.
For ages 11 and up. This novel contains mild violence and language, and some romance, but no sex. The adrenaline, "edge-of-the-seat" factor is low, and readers who like a fast pace may find themselves skimming much of this book. Still, this book would no doubt appeal to fans of high fantasy who enjoy beautiful writing in a slow-paced, lyrical tale, told in alternating chapters of flashback and present time.
I wanted to love this book, but unfortunately, I'm an adrenaline junkie, and this book put my brain to sleep.
THE BONE WITCH earns 2 North of Normal stars.

Format: Hardcover: $11.00 (currently on sale) on Amazon

---
Giveaway

---
Win a beautiful butterfly journal!
---
Giveaway Round-up

---
Win over $100 in bookish prizes in these current giveaways. But hurry! Some are ending soon!
Note: CM McCoy's Contest Policy applies. Rafflecopter terms and conditions also apply. No Purchase necessary to enter. Void where prohibited.
$25 Amazon Gift Card: https://www.nightowlreviews.com/V5/Blog/Articles/Eerie-25-by-CM-McCoy
$20 PayPal Cash or Amazon Gift Card: http://www.cmmccoy.com/blog/giveaway-20-paypal-cash/
$20 Amazon Gift Card: http://www.yabookscentral.com/blog/spotlight-on-eerie-by-c-m-mccoy
$10 in Books (Amazon or Book Depository): http://www.cmmccoy.com/blog/review-giveaway-the-deathday-letter-by-shaun-hutchinson/
$10 Amazon Gift Card: http://www.cmmccoy.com/blog/guest-post-giveaway-channeling-your-inner-miss-piggy/
Sterling Silver / CZ "Follow Your Heart" Necklace: http://www.cmmccoy.com/blog/cover-reveal-giveaway-the-heartbeat-hypothesis-by-lindsey-frydman-sweet-college-romance/
Sterling Silver Wishbone Pendant Necklace: http://www.cmmccoy.com/blog/first-pages-giveaway-lessons-in-gravity-by-megan-westfield-contemporary-romance/
Recent release/Top Rated Book from CM McCoy's library: http://www.cmmccoy.com/blog/giveaway-instagram-for-book-lovers-3-tips-from-an-expert-no-its-not-me/
Signed Paperback of EERIE by CM McCoy: http://www.cmmccoy.com/blog/inside-edition-interview-freebie-friday-signed-eerie-paperback/
Signed Paperback of EERIE (Goodreads Giveaway): https://www.goodreads.com/giveaway/enter_choose_address/217854-eerie
Irish Trinity Knot Wall Art: http://www.cmmccoy.com/blog/first-pages-giveaway-soulmated-by-shaila-patel-teen-paranormal-romance/
CARAVAL by Stephanie Garber (Hardcover): https://www.instagram.com/p/BQ_BtVulryI/?hl=en
eBook UP IN A TREEHOUSE by KK Allen: http://www.cmmccoy.com/blog/review-giveaway-under-the-bleachers-by-k-k-allen-18-sports-romance/