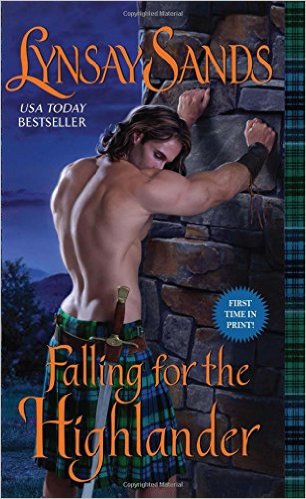 FALLING FOR THE HIGHLANDER
by Lynsay Sands
Genre: Historical Scottish Romance
Publisher: Avon (Jan 2017)
Format: Paperback, $5.98 on Amazon

Summary
New York Times bestselling author Lynsay Sands welcomes readers back to the Scottish Highlands, where a gallant warrior vows to protect a beautiful runaway . . .
Lady Murine Carmichael has known her share of bad luck. But when her debt-ridden half brother tries to sell her off in exchange for a few Scottish horses, it's the final straw. If keeping her freedom means escaping through harsh countryside alone, so be it. She has barely begun her journey when she lands an unlikely escort—the brawny Highlander who just refused to buy her virtue.
Dougall Buchanan was disgusted by Lord Danvries' shameful offer, but Murine tempts him beyond measure. Even bedraggled and dusty, the lass glows with beauty and bravery. Dougall wants to do more than just help her flee. He wants to protect her—with his life and his heart—if she'll only let him. For Murine may be pursued by a powerful foe, but nothing compares to the fiery courage of a Highlander in love.
---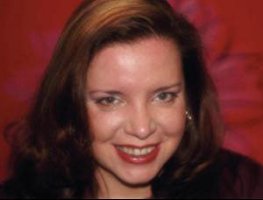 Born in Southern Ontario, Lynsay Sands is the New York Times bestselling author of the Argeneau Vampire series. She has written more than 34 books and anthologies since her first novel was published in 1997. Her romantic comedies span three genres—historical, contemporary, and paranormal—and have made the Waldenbooks, Barnes & Noble, USA Today, and New York Times bestseller lists. Lynsay's books are read in more than twelve countries and have been translated into at least six languages. She's been a nominee for both the Romantic Times Best Historical Romance Award and the Romantic Times Best Paranormal Romance Award, was nominated and placed three times in the RIO (Reviewers International Organization) Awards of Excellence, and has several books on All About Romance's Favorite Funnies list.
---
Jennifer's Review
---
* Recommended for readers aged 18+ due to content
I laughed, I cried, and I spent the entire book rooting for Murine and Dougall to find love and happiness. 
FALLING FOR THE HIGHLANDER by Lynsay Sands is a historical Scottish romance, the fourth in the Highlander series, and it can be read as a stand-alone. I've been a big fan of Lynsay Sands for years and have come to expect a quality love story with exciting twists and turns that leave readers breathless and ready for more. This book's summary promised a tale of rotten luck, despotic guardians, a powerful love story and gave as good as promised.
In FALLING FOR THE HIGHLANDER, Murine Carmichael has had enough of her half-brother when he attempts to sell her to pay for horses. She runs away and falls into the arms of Dougall Buchanan, a highlander whose sister she had once saved from being branded a murderer. Along with Dougall's brothers they travel from one castle to another, dodging attacks and trying to keep Murine from destroying any more gowns.
FALLING FOR THE HIGHLANDER offers a beautifully crafted world with interesting and engaging characters, though a few seemed rather one-dimensional: Alick and Geordie seem to be simply humorous characters used to offset some of the serious aspects of the book, and a few others seem to only be present to move the plot forward.  However others like Aulay, Conran, Dougall, and Murine have fully fleshed back stories that work to make the funny, brave, flawed, and eminently human characters that are sure to stick with readers well after the story ends. My favorite aspect of the book is probably the accents; every Scottish character sounded and felt Scottish in my head. It's details like this that make characters come to life, and Sands does a wonderful job of it. Happily ever after comes earlier than expected for the couple, but there are still a few twists and turns to go before the story ends. Sands ties up the loose ends of the story, but readers will no doubt want to know what happens to the rest of the Buchanans, leaving the possibility of more books to come.
There is no real cursing, and the romance gets steamy with some R-rated scenes, so I would recommend this to ages 18 and older. Readers who like Stephanie Laurens historical romances or hot men in kilts will love this series. I'd rate this book 4 stars, good enough to read again and recommend to friends.

---
Giveaway
---
Win a paperback copy of Sands' first book in this historical Scottish romance series:
An English Bride in Scotland (The Highland Brides) by Lynsay Sands

Note: CM McCoy's Contest Policy applies. Rafflecopter terms and conditions also apply. No Purchase necessary to enter. Void where prohibited by law.
a Rafflecopter giveaway

Save
Save