SALE: Sell That Book – Author Promotion 101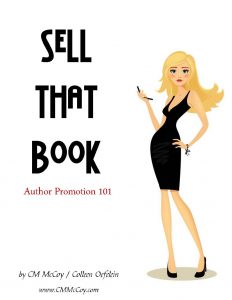 SALE: Sell That Book – Author Promotion 101
$55
by author/PR Manager CM McCoy (Colleen Oefelein)
((( My shopping cart is broken.)))
((( Email me to purchase the Guide: contact (at) cmmccoy (dot) com )))

((( THANK YOU )))

(Scroll down to order the guide or to order separate modules.Click here to read a free sample: Social Media Set-Up for Authors)
Sell That Book is a 188-pg guide to book promotion for authors and an expansion of the workshop Colleen gives at writer's conferences. It's a pdf file with accompanying Word .doc templates, which I'll both email and ship to you on a CD (free shipping).
The guide is available as a whole for $55 (reg $75) — on sale — OR you can get only the sections you need on sale for $5 each. When you buy the entire guide, you also get one teaser graphic, custom-made for your book.  Scroll to the bottom for the purchase links and free guide to building a social media platform.
Included with SELL THAT BOOK is a BONUS file containing Pitch Perfect Pitch Tips, a guide for pitching to agents, online contests, and pitching to readers at bookstores and conferences.
Authors are expected to market their books. Even big publishers offer little in the way of marketing support to the majority of their authors, so whether you're self-published, published by a small press, or published by one of the Big Ones, you need to know how to market and sell your book.
This guide truly has everything an author needs to sell their book in today's eBook-dominated, Social Media-enchanted world. If you're an author with a debut on the horizon, or if you're already published and want a boost in sales or more reviews, this is the guide you need.
The guide is divided into 3 sections:
Build a Social Media Platform
Fill Your Promotion Toolbox
Build and Deploy a Book Promotion Campaign
This guide provides step-by-step guidance to increase visibility for your book, build and energize your fan base, and of course SELL THAT BOOK.
You'll get tutorials with screen shots and Word .doc templates for:
Getting Book Reviews
Crafting a Press Release
Building a Rafflecopter
Creating Graphic Teasers and Book Trailers
Setting up a Successful Giveaway or Facebook Party
Organizing a Blog Tour
Buying an Online Ad
Purchasing Swag
Booking a Book Signing
Plus marketing campaigns for every budget, personality, and schedule. From a New Release Campaign to a simple early morning social media blast, you'll find the instructions you need.
Unsure about running a giveaway or placing an ad?
I've tried hundreds of giveaways, ads, and newsletters, and I collected the numbers. Some worked well…some not so well. From my research and experience marketing my own book, and from my experience as the PR Manager for a successful literary agency, I've developed effective strategies and packaged them into campaigns that work.
So far, I've sold out of every book signing I've ever booked, was interviewed by PEOPLE Magazine for a multi-page feature, courted by Oprah Winfrey Network, and I've appeared for a live TV interview on a morning news show in our state's biggest city. With my debut out for less than a year I've garnered over 100 reviews on Amazon with little promotional support from the publisher, and no listing on NetGalley. My small-press book is shelved in Barnes and Noble and selling out!
It can be done!
Are you ready to take your book promotion to the next level?
Scroll down to order SELL THAT BOOK now, and take advantage of this limited-time offer:
One FREE Teaser Graphic
custom-made for your book by yours truly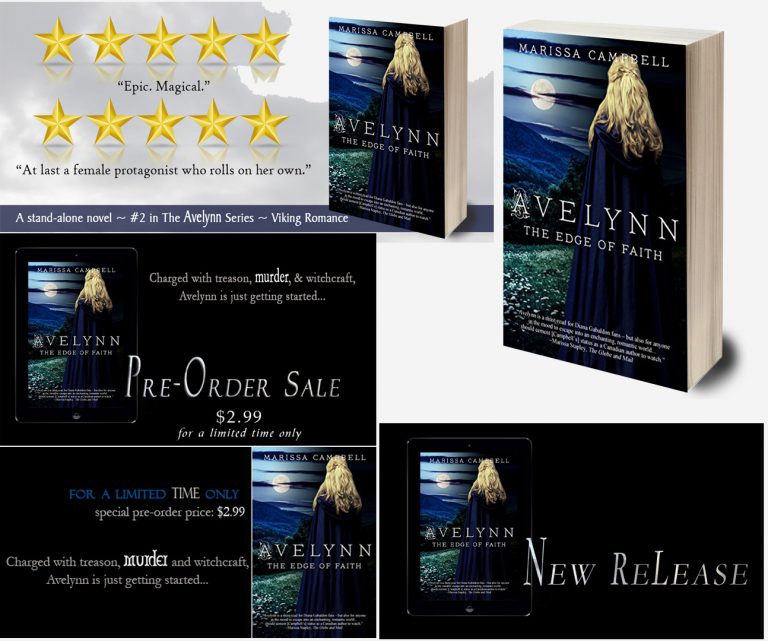 Not sure? Check out the first section of this guide for free 🙂
Click here for BUILD YOUR SOCIAL MEDIA PLATFORM (16 pages) FREE 🙂
Here's to selling that book!
SELL THAT BOOK CD / Download SALE $55 (Regular $75) Free shipping.
Or, buy only the section(s) you need:
SOCIAL MEDIA SETUP 101 (Free)
Set up your Facebook author page, your twitter account, Instagram, Goodreads author account, Amazon author account FREE (emailed .pdf)
CLICK HERE TO DOWNLOAD THE FREE .PDF FILE
BOOK REVIEWS 101 ($5)
Get more book reviews with BOOK REVIEWS 101 $5 (emailed .pdf)
GRAPHIC TEASERS 101 ($5)
Make eye-catching teasers with GRAPHIC TEASERS 101 $5 (emailed .pdf)
BOOK TRAILERS 101 ($5)
Promote with a Hollywood-style trailer. Learn how to make one with BOOK TRAILERS 101 $5 (emailed .pdf)
GIVEAWAYS 101 ($5)
Generate enthusiasm, build your fan base, and drive traffic to your book purchase site with a smartly run giveaway. GIVEAWAYS 101 $5 (emailed .pdf)
RAFFLECOPTER 101 ($5)
Running a Rafflecopter Giveaway can create a month-long buzz across social media for your book. RAFFLECOPTER 101 $5 (emailed .pdf)
BLOG TOURS 101 ($5)
You don't need a publisher to set up a blog tour. You can do it yourself if you know where to go for help. Use the included Press Sheet for Bloggers template to make your spotlight posts a simple copy-and-paste. BLOG TOURS 101 $5 (emailed .pdf)
CONTACTING LOCAL MEDIA 101 ($5)
Promoting online is one thing. Promoting in real life is another animal. You don't need to hire a $2000 publicist to create and distribute a press release. Use the accompanying Press Release Template to craft a professional release and distribute it smartly with CONTACTING LOCAL MEDIA 101 $5 (emailed .pdf)
PAID ADS AND NEWSLETTERS 101 ($5)
Not sure where to put the few dollars you have for promotion? This is the guide for you. I've tried several, gathered the data and compared. Put your money where you'll get the most benefit, using the timing and strategies I learned the hard way. PAID ADS AND NEWSLETTERS 101 $5 (emailed .pdf)
SWAG 101 ($5)
Readers love swag, but there's so much to choose from! Find out what readers keep and what they just throw away with instructions on how to create and order branded items. SWAG 101 $5 (emailed .pdf)
BOOK SIGNINGS 101 ($5)
Want to sell out at your book signing? Here's the sure-fire to-do list to knock your next signing out of the park. BOOK SIGNINGS 101 $5 (emailed .pdf)
FACEBOOK  PARTY 101 ($5)
A Facebook party can draw new fans of similar authors to your book and give you a nice sales boost. Here's how to set one up and bring in a crowd of readers interested in your genre. FACEBOOK PARTY 101 $5 (emailed .pdf)
BOOK PROMOTION CAMPAIGNS ($20)
You've published a book, and you've already got a toolbox full of promotional gadgets like Graphic Teasers, Swag, Book Trailers, Giveaway-know-how, and Reviews. Here's a 35-page guide with 14 proven promotion campaign strategies to fit every budget, personality, and schedule. From quick and free Social Media blasts to a full-blown New Release Campaign, this guide has you covered. BOOK PROMOTION CAMPAIGNS $20 (emailed .pdf)
CUSTOM-MADE TEASER GRAPHIC ($20)
An eye-catching teaser graphic is far more likely to sell your book than promotional text alone. There is no better way to get a reader to click your book link than with a stunning image. Need a Facebook or Twitter banner that promotes your book in a professional way? I can help 🙂 Authors need custom graphics for a successful Facebook ad as well.  CUSTOM-MADE TEASER GRAPHIC $20 (downloadable .jpg)
Here's some of my work: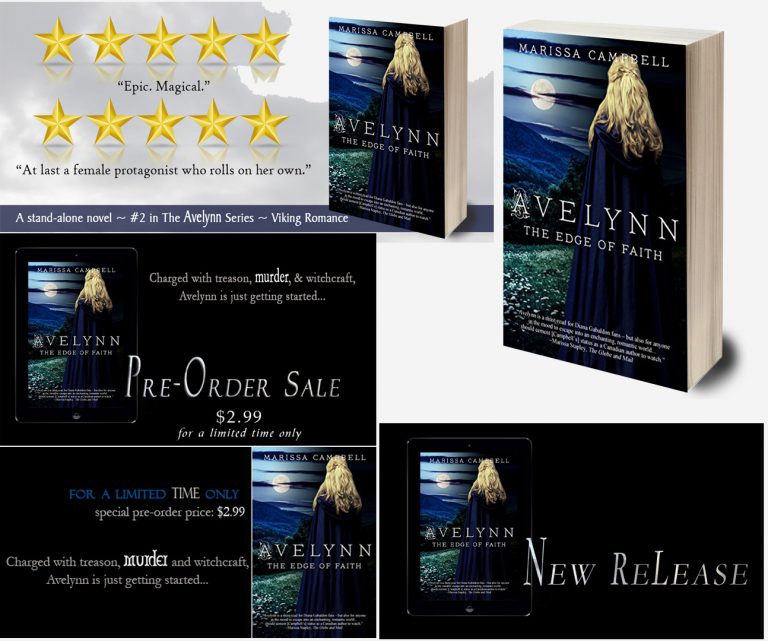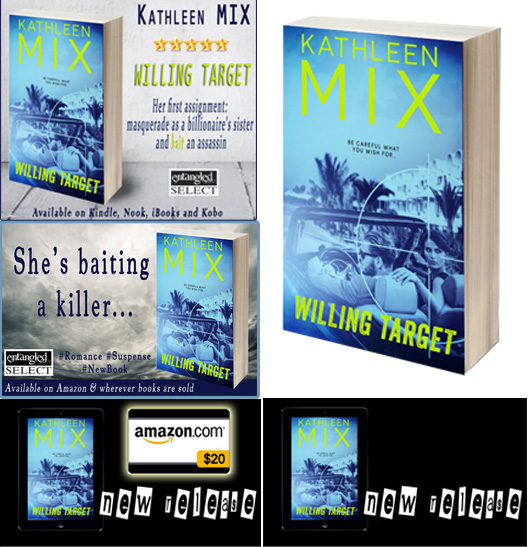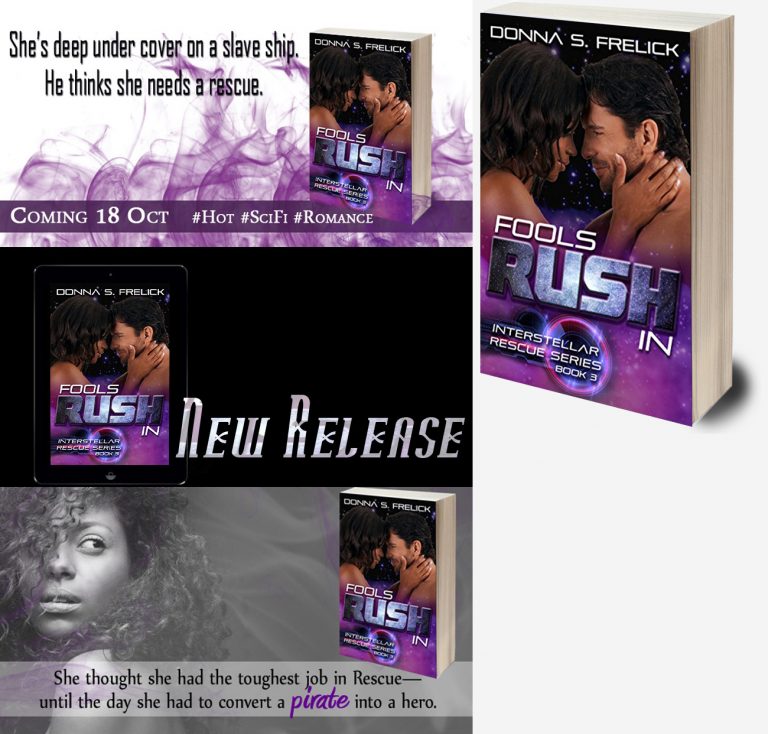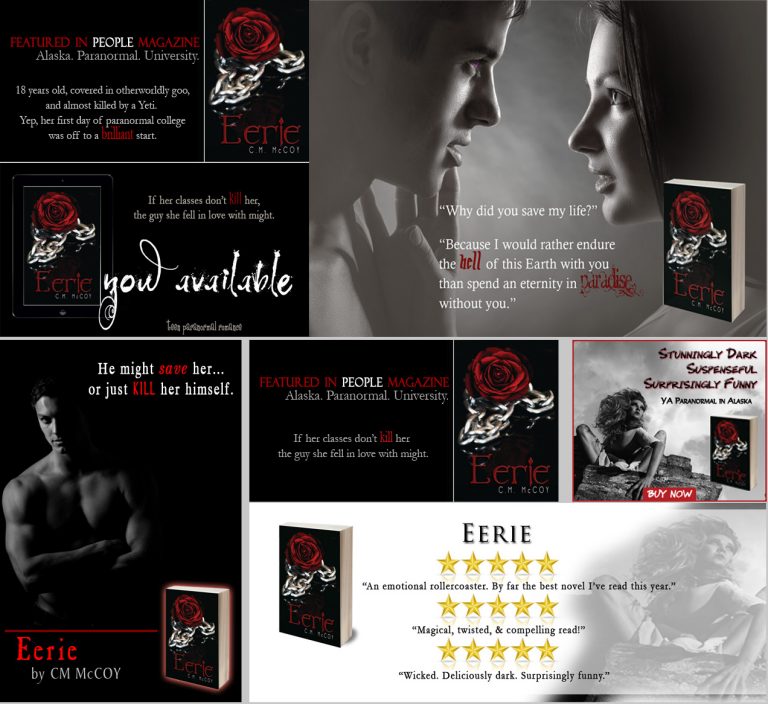 Save
Save
Save
Save
Save
Save
Save
Save
Save
Save
Save
Save
Save
Save
Save
Save
Save
Save
Save
Save
Save
Save
Save
Save
Save
Save
Save
Save
Save
Save
Save
Save
Save
Save
Save
Save
Save
Save
Save
Save
Save
Save
Save
Save
Save
Save
Save
Save
Save
Save
Save
Save
Save
Save
Save
Save
Save
Save
Save