Review + Giveaway: THE DEATHDAY LETTER by Shaun Hutchinson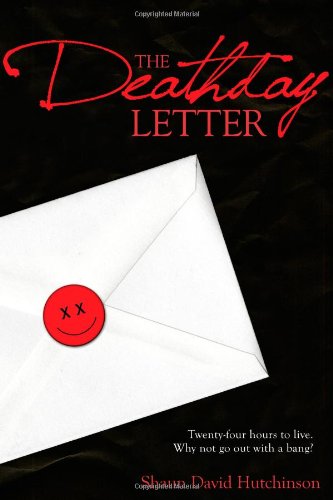 THE DEATHDAY LETTER
by Shaun Hutchinson
Genre: 16+ YA, Literature on Death, Dying, and Sex
Publisher: Amazon Digital Services (10 Jun 2010)
Format: $8.99 eBook on Amazon

Summary from Amazon

The clock is ticking…
Ollie can't be bothered to care about anything but girls until he gets his Deathday Letter and learns he's going to die in twenty-four hours. Bummer.
Ollie does what he does best: nothing. Then his best friend convinces him to live a little, and go after Ronnie, the girl who recently trampled his about-to-expire heart. Ollie turns to carloads of pudding and over-the-top declarations, but even playing the death card doesn't work. All he wants is to set things right with the girl of his dreams. It's now or never…
---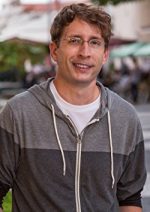 Shaun Hutchinson is a writer and geek living in sunny South Florida. He grew up in Florida and has only lived outside the Sunshine State twice in his life. Shaun loves geeking out on tech and sci-fi, and worships at the altar of Joss Whedon. He's fully prepared for the zombie apocalypse.
---
eKelly's Review
---
Hutchinson does it again and does not disappoint!
The Deathday Letter by Shaun David Hutchinson is a young adult standalone novel. This is not the first book by Shaun David Hutchinson that I have read; in fact it's the third one.
Since the first two books I read by this author did not disappoint, I decided I would read everything he writes. Hutchinson's stories are all unique but have the common theme of one or two main characters being young homosexual males. However, the sexual orientation of the characters is not the main focus of Hutchinson's stories, which lends appeal to readers outside the LGBTQ+ community.
The Deathday Letter is about a girl-crazy high school boy named Ollie Travers who receives his Deathday Letter and learns he has 24 hours to live. There is no rhyme or reason why some people receive the letter and others don't. They also don't know how they will die at the end of the 24 hours.  Ollie decides to make the most of it and spends his last 24 hours making things right with his ex-girlfriend and spending time with his gay best friend. The 3 friends embark on a day of trying to knock things off Ollie's and the other's bucket lists. This includes some craziness like driving without a license, trespassing, and cops. The book starts out by saying the first thing you need to know about Ollie Travers is he is going to die, which might've deterred me from continuing (when a book hints straight away the main character will die, I'm not apt to continue.)  But because I have so much confidence in Hutchinson's stories, I didn't let that deter me from reading.
Overall, I enjoyed this story and loved the 3 main characters. Ollie's raunchiness, however, was a bit repetitive and it made me think: is this what high school boys think about 24/7?
This book is shelved in the young adult section, but some of the content walks a fine line between PG-13 and R. I would recommend this for readers 16+. This book earns 4 North of Normal stars!

Format: eBook Advance Copy. Pre-order for $8.99 on Amazon

---
Giveaway
---
Win up to $10 in books from either Amazon or Book Depository! Open Internationally!
$10 in Books from Amazon or Book Depository

Note: CM McCoy's Contest Policy applies. Rafflecopter terms and conditions also apply. No Purchase necessary to enter. Void where prohibited.