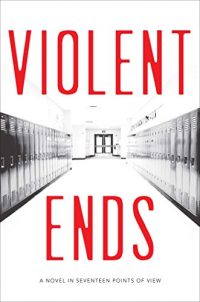 VIOLENT ENDS
by Beth Revis, Blythe Woolston, Brendan Shusterman, Christine Johnson, Courtney Summers, Cynthia Leitich Smith, Delilah S. Dawson, E. M. Kokie, Elisa Nader, Hannah Moskowitz, Kendare Blake, Margie Gelbwasser, Mindi Scott, Neal Shusterman, Shaun David Hutchinson, Steve Brezenoff, Tom Leveen, and Trish Doller
Genre: YA Fiction (social violence)
Publisher: Simon Pulse (Sep 2015)
Format: Paperback, $6.70 on Amazon

Summary
In a one-of-a-kind collaboration, eighteen of the most recognizable YA writers—including Shaun David Hutchinson, Neal and Brendan Shusterman, and Beth Revis—come together to share the viewpoints of a group of students affected by a school shooting.
It took only twenty-two minutes for Kirby Matheson to exit his car, march onto the school grounds, enter the gymnasium, and open fire, killing six and injuring five others.
But this isn't a story about the shooting itself. This isn't about recounting that one unforgettable day.
This is about one boy—who had friends, enjoyed reading, playing saxophone in the band, and had never been in trouble before—became a monster capable of entering his school with a loaded gun and firing bullets at his classmates.
Each chapter is told from a different victim's viewpoint, giving insight into who Kirby was and who he'd become. Some are sweet, some are dark; some are seemingly unrelated, about fights or first kisses or late-night parties. This is a book told from multiple perspectives—with one character and one event drawing them all together—by some of YA's most recognizable names.
---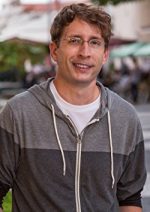 Shaun Hutchinson is a writer and geek living in sunny South Florida. He grew up in Florida and has only lived outside the Sunshine State twice in his life. Shaun loves geeking out on tech and sci-fi, and worships at the altar of Joss Whedon. He's fully prepared for the zombie apocalypse.
---
Wendy's Review
---
An amazing and haunting read!
VIOLENT ENDS by Shaun David Hutchinson and 17 other authors is a young adult contemporary fiction, standalone novel.
I chose this book to read because I have previously read WE ARE THE ANTS and TH FIVE STAGES OF ANDREW BRAWLEY by the Hutchinson. Since I considered both 5 star books, I anticipated another remarkable story, and I was not disappointed.
In essence, this book is about a school shooting, told from 17 different points of view. Although I have read other books with this theme, VIOLENT ENDS was, by far, the most original. Each chapter begins in first person, leaving the reader with no idea who is speaking. As each chapter's story unfolds, you learn more about the narrator and how their lives were effected by the shooter. Some chapters seem totally unrelated to the story but contributes brush strokes that help paint the entire picture.
One of the many things I loved about this book was that it did not portray the shooter as someone you would hate until the day he pulled the trigger. It delved into the human side of the person and what may have brought him to the place where the shooting would be his inevitable release. However, at no time, does the book make excuses for what he does. Instead, it allows the readers to make the decision themselves, whether or not he could have been saved.
The writing was brilliant and as I expected, the story provided much more than a gratuitous "violent end." This book would make a perfect book to discuss in a book club or readers' group. One person's interpretation of the events may differ completely from another's, and I think that was the authors' point.
Although there is no sex in this book, there is language and, as the title states, violence. I would not recommend it to readers under 14 years old. However this is for anyone who seeks meaning in the wake of tragedy.
I give this book 5 stars. I loved it and purchased a copy to keep and read again in the future. I have recommended this to several friends as I believe it is remarkably touching.

---
Giveaway
---
Note: CM McCoy's Contest Policy applies. Rafflecopter terms and conditions also apply. No Purchase necessary to enter. Void where prohibited by law.
a Rafflecopter giveaway

Save