Review + Giveaway: ROYAL BASTARDS by Andrew Shvarts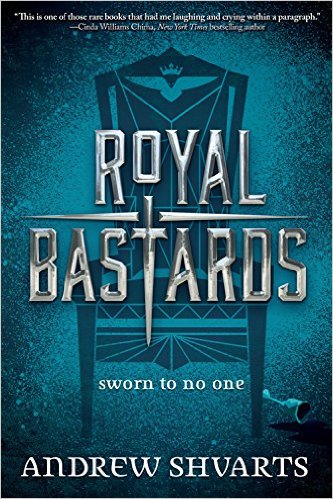 ROYAL BASTARDS
by Andrew Shvarts
Upper YA Epic Fantasy

Publisher: Disney Hyperion
Release Date: 30 May 2017
Format: Advance copy eBook via NetGalley

Being a bastard blows.
Tilla would know. Her father, Lord Kent of the Western Province, loved her as a child, but cast her aside as soon as he had trueborn children. At sixteen, Tilla spends her days exploring long-forgotten tunnels beneath the castle with her stablehand half brother, Jax, and her nights drinking with the servants, passing out on Jax's floor while her castle bedroom collects dust. Tilla secretly longs to sit by her father's side, resplendent in a sparkling gown, enjoying feasts with the rest of the family. Instead, she sits with the other bastards, like Miles of House Hampstedt, an awkward scholar who's been in love with Tilla since they were children.
Then, at a feast honoring the visiting princess Lyriana, the royal shocks everyone by choosing to sit at the Bastards' Table. Before she knows it, Tilla is leading the sheltered princess on a late-night escapade. Along with Jax, Miles, and fellow bastard Zell, a Zitochi warrior from the north, they stumble upon a crime they were never meant to witness. Rebellion is brewing in the west, and a brutal coup leaves Lyriana's uncle, the Royal Archmagus, dead—with Lyriana next on the list.
The group flees for their lives, relentlessly pursued by murderous mercenaries; their own parents have put a price on their heads to prevent the king and his powerful Royal Mages from discovering their treachery. The bastards band together, realizing they alone have the power to prevent a civil war that will tear their kingdom apart—if they can warn the king in time.
And if they can survive the journey . . .
---
About the Author

---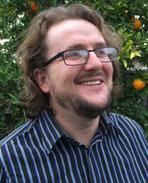 Andrew Shvarts is a Russian-born YA writer, living in San Jose, California. He spends his days designing video games at Pixelberry Studios and his nights playing board games or making growling noises while chasing his 1-year-old around.
---
Review by CM McCoy

---

Dark, edgy, thrilling!

ROYAL BASTARDS by Andrew Shvarts is a stand-alone teen epic fantasy, suitable for readers aged 16 and over due to graphic violence, alcohol consumption, and one sexual situation.
What in the frozen Hell did I just read?
I requested this title from NetGalley because I loved the cover. Didn't even bother reading the blurb, and honestly, if I had known I'd have an epic fantasy on my hands, I'd have steered clear, because high fantasy ALWAYS puts my brain to sleep, and I'd long ago given up my hunt for the unicorn of high fantasy–that one that can immediately suck me in and send my heart racing.
Well, turns out I found it! I'm glad I didn't skip this one–this is THE EPIC FANTASY written for impatient readers like me who love the movies but fall asleep reading LOTR. Dripping with adrenaline, ROYAL BASTARDS is just what the title and cover promise: an edgy, so-wrong-it's-right read.
Except for that first line "Being a bastard blows," the back cover blurb (now that I've read it) doesn't do this book justice. Tilla's the 16-year-old bastard daughter of a regional Lord, who pretty much ignores her now that he has a proper wife and three "legitimate" daughters. Why he hasn't disowned her and tossed her out on the street is the question that fixes hope in her heart–that her father will one day decide to legitimize her (give her his last name, let her eat at the family table, etc) and thereby save her from a life as a servant. But when Tilla and her beloved half-brother (also a bastard) witness her father kill a visiting Mage from the king's court (an act of war), it's game on. Tilla along with a band of other misfit bastards embark on a mission to deliver the visiting teenage princess safely back to her kingdom before her bloodthirsty father kills her (and Tilla, too).
Shvarts does so much so well. The opening pages immediately sucked me in, and while there were bits of backstory I skimmed, I felt pretty much glued to these characters and this plot. As far as world-building goes, Shvarts nails it. Nothing is over done, and everything weaves together beautifully, subtly, and–oh yeah–THRILLINGLY. There's a thread of subtle humor that offsets the sometimes over-the-top graphic violence (though the main character is a chick, it's clear a dude wrote this). Though I didn't actually laugh out loud, I did get a bit misty-eyed at the end, and I was a little angry with Shvarts for killing my favorite character. I think I might've actually blurted, "You bastard!" But that's the beauty of this book, it totally screws the rules of fair play. So, reader be warned: this is a fast-paced, violent book that skirts the edge of inappropriate in the best and most thrilling way!
Though it's marketed as YA, this book may be a little too edgy for readers under 16, as it depicts the 16-year-old main character drinking loads of alcohol, engaged in sex, and bashing in skulls in all the gory detail. ROYAL BASTARDS will appeal to fans of dark fairy tales, those who loved the LOTR movies, and anyone with a chip on their shoulder. I loved this book so much, I want to share it with a hardcover giveaway (scroll down).
ROYAL BASTARDS earns 4 North of Normal stars!


---
New Giveaway
---
ROYAL BASTARDS (hardcover)

Note: CM McCoy's Contest Policy applies. Rafflecopter terms and conditions also apply. No Purchase necessary to enter. Void where prohibited.
a Rafflecopter giveaway

---
Other Current Giveaways
---
Win over $300 in bookish prizes in these current giveaways. But hurry! Some are ending soon!
Note: CM McCoy's Contest Policy applies. Rafflecopter terms and conditions also apply. No Purchase necessary to enter. Void where prohibited.
Kindle Paperwhite Giveaway: http://www.cmmccoy.com/blog/kindle-paperwhite-giveaway
Amazon Fire TV Stick: http://www.cmmccoy.com/blog/fire-tv-stick-giveaway-first-pages-feature-with-laura-heffernan
$30 Book Shopping Spree: http://www.cmmccoy.com/blog/review-giveaway-belle-by-cameron-dokey-a-retelling-of-beauty-and-the-beast-once-upon-a-time
$25 Gift Card: http://www.cmmccoy.com/blog/giveaway-rts-spooky-ya-authors-part-1
$10 Gift Card: http://www.cmmccoy.com/blog/review-giveaway-the-hereafter-by-jessica-bucher-college-paranormal-romance
ROYAL BASTARDS (hardcover): http://www.cmmccoy.com/blog/review-giveaway-royal-bastards-by-andrew-shvarts
Trendy Spring Scarf: http://www.cmmccoy.com/blog/review-giveaway-first-pages-alterations-by-stephanie-scott
THE CROOKED SIXPENCE (hardcover): http://www.cmmccoy.com/blog/review-giveaway-the-crooked-sixpence-by-jennifer-bell-middle-grade-fantasy/
VICIOUS MASKS (paperback): http://www.cmmccoy.com/blog/review-giveaway-these-vicious-masks-by-shanker-zekas
WRECK THIS JOURNAL: http://www.cmmccoy.com/blog/review-giveaway-openly-straight-by-bill-konigsberg/
BEAUTY AND THE BEAST book of choice: http://www.cmmccoy.com/blog/sunday-fun-day-giveaway/
White Gold Plated/Crystal 4-Heart Clover Necklace: http://www.cmmccoy.com/blog/review-giveaway-famous-by-default-by-m-k-harkins-ya-romance
EPIC FAIL (Paperback) by Claire LaZebnik: http://www.cmmccoy.com/blog/review-giveaway-things-i-should-have-known-by-claire-lazebnik
GEOGRAPHY CLUB (Paperback) by Brent Hartinger: http://www.cmmccoy.com/blog/review-giveaway-boy-meets-boy-by-david-levithan-teen-lgbt-romance
Courage Pendant: http://www.cmmccoy.com/blog/review-giveaway-straight-by-seth-king-18-gay-romance/
BEASTLY paperback: http://www.cmmccoy.com/blog/review-giveaway-beastly-by-alex-flinn-ya-fairy-tale-retelling
---