Cover Reveal + #Giveaway: IT HAD TO BE YOU by Lizzy Charles (YA Romance)

IT HAD TO BE YOU

by Lizzy Charles
Publication Date: 15 May 2017
Publisher: Entangled
Genres: YA, Contemporary, Romance, Multi-Cultural, Fake Relationship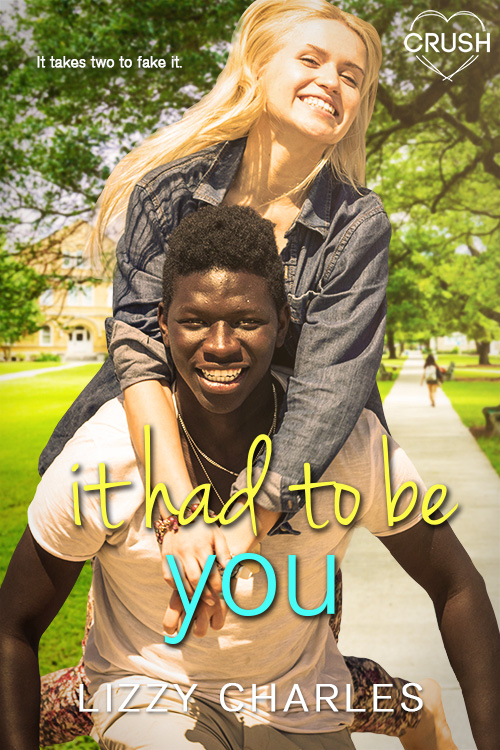 PRE ORDER: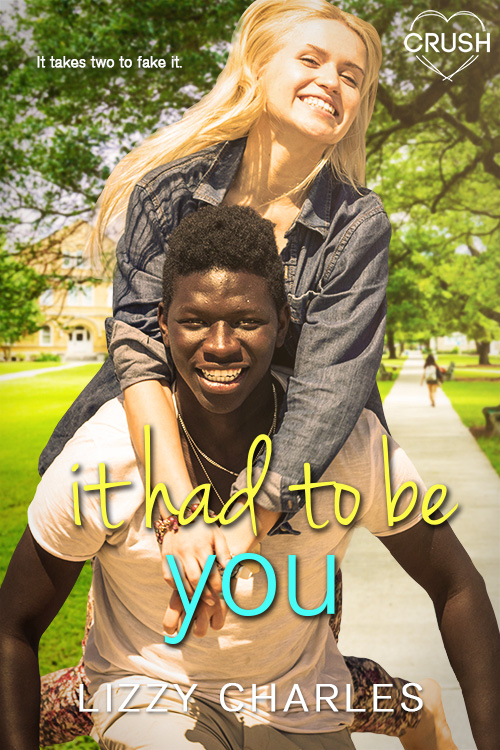 SYNOPSIS:
James Parson has a problem. His military dad is going to yank him out of his expensive boarding school if James doesn't prove he's no longer hooking up, pulling pranks, and charming his way out of consequences. What better way to show he's now responsible than becoming the committed boyfriend of a U.S. diplomat's daughter?
Level-headed, book-smart Edelweiss may have traveled the world thanks to her dad's job, but when it comes to friends and boys, she knows exactly nothing. Newly enrolled in boarding school, Edel is now on a mission to learn it all. James says he'll help her experience the ultimate high school life—if she'll be his fake girlfriend. And fake is perfect, because he's exactly the kind of player she'd never date.
Disclaimer: This Entangled Teen Crush book contains red-hot romance, all the feels, and a soul-mate bad boy.

ABOUT LIZZY CHARLES

Lizzy Charles writes young adult contemporary romance and would rather read than eat, but if she's not reading then you can bet she's eating. She's a tea fanatic, guacamole expert, and sushi lover (though not necessarily combined). When she's fixing lunches, dressing kids, changing diapers, or wiping pizza sauce off sticky hands, she escapes to La La Land and imagines all sorts of little love stories that she likes to tuck into novels once she's put all three kids to bed.  Lizzy loves her daily dose of fitness and is also a Registered Nurse so she can triage any symptom you send her way. Her best friend is her husband, and it's no wonder she loves writing YA romance since the two fell in love in high school. She's also enjoys blogging at LizzyCharles.com where she talks about life, faith, food, health, parenting, and more. Oh and she has a little pup named Professor Lupin who is pretty much the glue to the whole writing operation.
Goodreads | Facebook | Twitter | Instagram
ENTER THE GIVEAWAY
$10 Amazon Gift Card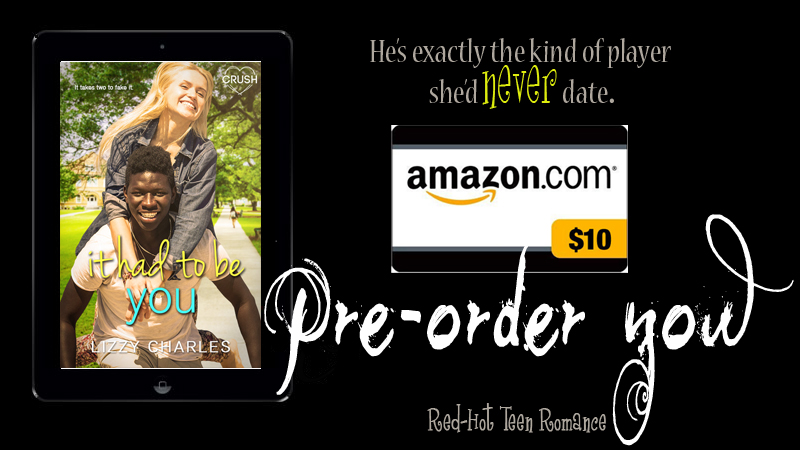 ---
20+ Current Giveaways on this Blog!

---
Win over $300 in bookish prizes in these current giveaways. But hurry! Some are ending soon!
Note: CM McCoy's Contest Policy applies. Rafflecopter terms and conditions also apply. No Purchase necessary to enter. Void where prohibited.
Kindle Paperwhite Giveaway: http://www.cmmccoy.com/blog/kindle-paperwhite-giveaway
Kindle Fire (ends 30 Apr): http://www.cmmccoy.com/blog/3311-2/
Amazon Fire TV Stick: http://www.cmmccoy.com/blog/fire-tv-stick-giveaway-first-pages-feature-with-laura-heffernan
$30 Book Shopping Spree: http://www.cmmccoy.com/blog/review-giveaway-belle-by-cameron-dokey-a-retelling-of-beauty-and-the-beast-once-upon-a-time
$25 Gift Card: http://www.cmmccoy.com/blog/giveaway-rts-spooky-ya-authors-part-1
$10 Gift Card, Choice of Book, AND Trendy Spring Scarf: http://www.cmmccoy.com/blog/giveaway-hoppy-easter-eggstravaganza-blog-hop/
$10 Gift Card + Signed Copy of DESIRES by Roxanna Rose: http://www.cmmccoy.com/blog/spotlight-giveaway-ya-spooky-slumber-party-at-rt-part-3
$10 Amazon Gift Card: http://www.cmmccoy.com/blog/
EPIC FAIL (Paperback) by Claire LaZebnik: http://www.cmmccoy.com/blog/review-giveaway-things-i-should-have-known-by-claire-lazebnik
Courage Pendant: http://www.cmmccoy.com/blog/review-giveaway-straight-by-seth-king-18-gay-romance/
BEASTLY paperback: http://www.cmmccoy.com/blog/review-giveaway-beastly-by-alex-flinn-ya-fairy-tale-retelling
Paranormal University Survival Kit: http://www.cmmccoy.com/blog/news-giveaway-pitchwars-roadshow-and-ya-spooky-slumber-party
THE GLITTERING COURT: http://www.cmmccoy.com/blog/review-giveaway-the-glittering-court-by-richelle-mead-ya-fantasy-romance
Choice of ANY book mentioned on this blog: http://www.cmmccoy.com/blog/review-giveaway-dont-you-cry-by-mary-kubica-thriller
Alaska's North Pole Coffee Company Coffee Candy (Mocha Coffee Beans): http://www.cmmccoy.com/blog/review-giveaway-daddy-dearest-by-paul-southern-psychological-thriller
Angel Perfume Decanter Necklace: http://www.cmmccoy.com/blog/review-giveaway-birthright-by-jessica-ruddick-ya-paranormal
CHARMING by Elliott James (Paperback): http://www.cmmccoy.com/blog/release-day-giveaway-legend-has-it-by-elliott-james-urban-fantasy
Celtic Leather Bracelet: http://www.cmmccoy.com/blog/cover-reveal-giveaway-blue-bottle-tree-by-beaird-glover-ya-paranormal
THE CHEMIST (paperback) by Stephanie Meyer: http://www.cmmccoy.com/blog/review-giveaway-chemistry-by-c-l-lynch-ya-paranormal-romance