** This book is not recommended for readers under 18 due to sexual content **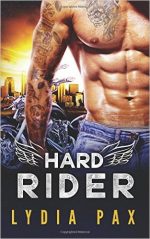 Hard Rider

MC Romance by Lydia Pax
Release Date: 03/17/16
Buy it for $0.99: www.amzn.com/B01D2B9EQY/
Summary:
SHE WAS BORN OFF-LIMITS. BUT HE WAS BORN TO BREAK THE RULES. 
Ram:
Nobody screws me. I take who I want, when I want, and I always leave them wanting more.
I want more too. Hurt this deep doesn't heal.
After meeting June, I know she's the fix I need for the pain.
Her family's full of cops? So what?
All I want is her. Those luscious curves, the lips that won't quit, hips that make my heart pound like a drum.
My outlaw brothers say me and her together will tear this whole town apart.
I don't give a damn.
June: 
I never wanted to come home. There's nothing here but old wounds too bitter to heal.
The day I returned, I met Ram. He's an outlaw biker built like a god, but there's nothing divine about his desires.
When he tells me he needs an old lady to stay in his club, we start a dangerous charade.
He gets a woman and time. I get my sheriff dad off my back. Breathing room.
But every breath around Ram is lightning hot and undeniable.
I can't be with him for real. He's every kind of wrong there's ever been.
Unless we're careful, we'll rip our lives apart.
But what's happening between us feels too right to ignore, no matter the cost…
My Review

Surprising, suspenseful, and hot, hot, hot.
Every now and then a story gets inside your head. Characters grab you and won't let go, and that story you thought was going to be "just another motorcycle romance" reminds you exactly why you love books.
HARD RIDER was one of those books for me. Romeo and Juliet meets Hell's Angels in this smart Motorcycle Romance, which straddles the genre line between mystery, suspense, and e-romance. This book has it all: deception, murder, forbidden love, a secret marriage, and an eternal conflict between rival gangs.
The book opens with a steamy scene between Ram and June, which does well to set the tone and gave me something to look forward to. Honestly, without that preface, I might've put this book down, and I would've missed a great story. The story itself begins with Ram's POV and way too much backstory for my taste. I ended up skimming most of the first chapter, and honestly, if it weren't for the refreshing voice in Pax's writing I probably would have stopped reading. Very quickly, though, Pax settles in to a nice story-telling rhythm, and the whole book flies by in the blink of an eye. The characters, fully developed and each with their own, distinct voice, made this gripping story come to life.
I loved this tale and hope to see more from this author! I'd recommend this book to MC romance and romantic suspense loves over 18 years old due to explicit sex scenes and language.
For me, HARD RIDER brilliantly incorporated a hot, erotic romance with an edge-of-your-seat suspense. I laughed, I cheered for June and Ram, I cried, I wanted to punch June's father (and on a few occasions, Ram). This book was awesome.  4.5 stars.
*I received a free copy of this book in exchange for an honest review.
---
About the Author:
---
Lydia Pax loves to write stories featuring hot alpha badasses falling in love with strong, smart women in the midst of a ton of excitement, turmoil, and intrigue. Life is strange, beautiful, and wonderful, but sometimes it can be a little too boring. Her stories spice the day up with enough heat to need a cold drink nearby as you read and always close with a HEA.
She's giving away $300 in Amazon Gift Cards in celebration of my new alpha male biker romance–HARD RIDER. You can enter–for free!–right here through the 21st of March: http://gvwy.io/u1djbvh
She's also giving away a free, signed hard copy of Hard Rider through Goodreads: https://goo.gl/LSaQJh
For first access to Advance Review Copies of hot new releases so you can read them before ANYONE else, sign up for the Lydia Pax Newsletter: http://eepurl.com/byf5N1
Social Media Links
Website: http://www.lydiapax.com/
Facebook: https://www.facebook.com/lydiapaxbooks
Twitter: https://twitter.com/LydiaPax
☆ Add to Goodreads: https://www.goodreads.com/book/show/29338599-hard-rider
Buy the Book

Amazon: http://www.amzn.com/B01D2B9EQY/
Save