Cool Tidbits/Excerpts + #Giveaway: THE CORNER OFFICE by Katerina Baker (contemporary w/romance)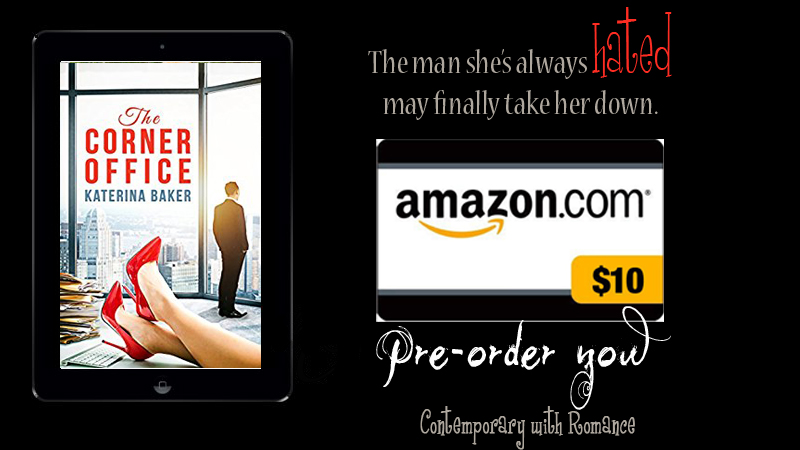 Hi guys! Colleen here with my author friend Katerina, whose contemporary with romance releases this June. "Writing the masturbation scene was fun!" said Katerina, when I asked her about this book. lol! You know you're in for a treat with this one. Check it out 🙂 and enter Katerina's giveaway at the bottom of the post. Thanks so much for stopping by! – xo, Colleen
THE CORNER OFFICE

by Katerina Baker
Publication Date: 23 Jun 2017
Publisher: Create Space
Genres: Contemporary, Romance, Women's Issues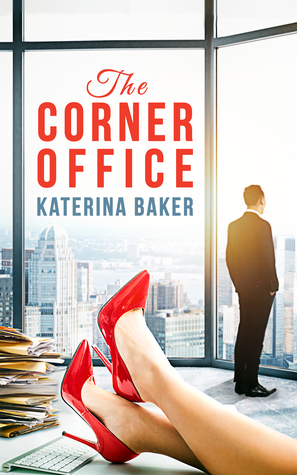 PRE ORDER: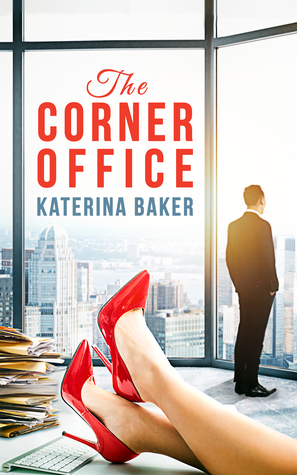 SYNOPSIS:
Tara Johnson's sacrifices are about to pay off: a senior executive at thirty-five at a Fortune 500 company, she's one of the two finalists in line for a Managing Director position. Unfortunately, her rival of fifteen years, the charming, infuriating Richard Boyd, is just as qualified, and unlike her, he's willing to cross pretty much every line to get what he wants.
Of all the things Tara stored in the attic to make it to the top, it's her personal life she misses the most. That is, until she starts a steamy affair with sex god Aidan, her direct report. Interoffice relationships with a subordinate can mean the end of a career, and when Richard finds out, it's the perfect opportunity to take his high-heeled nemesis out, especially since he's still nursing a grudge against Tara for rejecting him years ago.
But Tara's increasingly domineering lover has his own dark secrets, endangering more than just her career. As her liaison spirals out of control, salvation will come from the man she always thought she hated, and perhaps the only one to truly understand.

3 COOL TIDBITS + EXCERPTS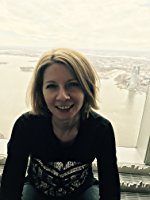 🙂 From off-the-wall author, Katerina 🙂
1. Writing the masturbation scene was fun! The main character is quite comfortable with her sexuality, and there is a scene where she is taking care of business with Adam&Eve. It continues to horrify me to think that one day (soon!) my parents will very likely be reading this scene. Here is an excerpt:
A woman had other ways to satisfy her sexual cravings. Mine came in trendy silver, with an electronically operated, "modest-sized" device designed specifically for "her" pleasure. It was there for me when I needed it, it didn't require any work on my part to get it ready, and it didn't ask to rank our latest adventure when we were done. "Tara, sweetie, how was it? I feel like this one was at least a solid eight." My Adam & Eve had a bit more common sense than that.
2. Something else that was fun? Take the main character out of her comfort zone. Like when she is waiting for

the

guy she just started dating and he shows up on a motorcycle. She is visibly uncomfortable thinking that executives
 in tailored dress suits don't look good on bikes. Then of course, she gets on and tries to cover her legs, as much as she can, worrying about flashing her underwear. 
3. Actually the entire book was fun to write. Although it deals with some of the more important topics about equality of women in the workplace, the dilemmas they are going through balancing careers and family lives, I tried to lighten it up, to introduce these really ridiculous scenes to offset some of the seriousness. One of my favorite scenes:
Luckily, we heard footsteps, sparing us the continuation of our verbal insults, which would've likely lead us to lose our tempers, raise our voices, and turn the conversation into something else entirely. Briefcase fights. We've resorted to those. I hit him with my red purse in the midst of a passionate argument, forgetting it had my laptop. Richard survived; my laptop didn't. 
REQUEST A REVIEW COPY

ABOUT KATERINA BAKER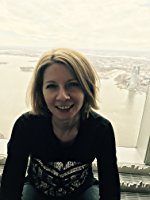 Katerina Baker is a lucky gal who still attempts to have it all: full-time project management job that she enjoys, crazy family of four (with the ongoing threats of getting a pet to upset the family equilibrium) and writing.
Although on some days she is much more successful at managing her life than on the others, she still claims that she doesn't want it any other way.
Katerina is represented by Sharon Belcastro from Belcastro Agency, and has a contract with Lachesis Publishing, who will be publishing her Romantic Suspense novel Under the Scrubs.
Website | Goodreads | Facebook | Twitter
ENTER THE GIVEAWAY
$10 Amazon Gift Card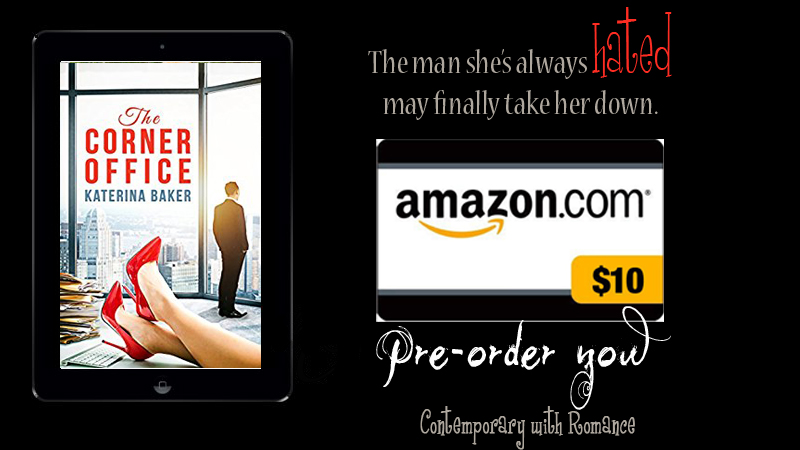 $10 Amazon Gift Card Giveaway (ends 23 Jun 2017): https://www.facebook.com/permalink.php?story_fbid=1899272210313757&id=1427732957467687
---
Current Giveaways on this Blog!

---
Win over $300 in bookish prizes in these current giveaways. But hurry! Some are ending soon!
Note: CM McCoy's Contest Policy applies. Rafflecopter terms and conditions also apply. No Purchase necessary to enter. Void where prohibited.

Kindle E-Reader Giveaway: http://www.cmmccoy.com/blog/kindle-e-reader-giveaway
Stack of 7 Books: http://www.cmmccoy.com/blog/win-a-stack-of-books-from-cm-mccoy
Signed paperback of EERIE: https://www.goodreads.com/giveaway/show/237635-eerie
Steal 4 Books from my Shelf: http://www.cmmccoy.com/blog/want-to-steal-4-books-from-my-shelf/
THE CHEMIST by Stephanie Meyer: http://www.cmmccoy.com/blog/review-giveaway-chemistry-by-c-l-lynch-ya-paranormal-romance/
Writer's Basket of Goodies (5-page critique + THE EMOTION THESAURUS and more):  http://www.cmmccoy.com/blog/a-journey-to-publication
THE BUTTERFLY PROJECT (paperback):  http://www.cmmccoy.com/blog/review-giveaway-the-butterfly-project-by-emma-scott-na-contemp-romance
You Pick Two! (Print edition books): http://www.cmmccoy.com/blog/armchair-book-expo-introduction
---