Welcome to the 2017 Fall YA Scavenger Hunt for awesome teen books!
This is a blog hop featuring over 140 AWESOME YA authors and a TON of bookish prizes.
Here's how it works:
The hunt begins Tuesday, October 3rd and ends at noon Pacific Time on Monday, 9 October. It's easy to play. All you have to do is start at the YASH website, where you'll find a list of all the authors participating, as well as an answer sheet you can print off to gather the info you're hunting for to keep track of any bonus contests you may have entered.
Your job is to find the secret number I've conspicuously hidden in this post and add it up with the other 19 Red Team numbers. Enter that number in the appropriate rafflecopter on the YASH website: http://www.yash.rocks/p/enter-here.html. There are SEVEN teams (red team is one of them).
This year, EERIE is on the Red Team, and I have TWO, SUPER FUN extra giveaways for you guys before I introduce the awesome YA author we're hosting on this stop (the adorably articulate T. Rae Mitchell).
Giveaway #1: Can you guess which two of the following red team books are currently on my bookshelf? (There are 16 books I want, but only two are on my shelf 😉 )Put your guess in a comment and guess up to 5 times for a chance to win your choice of book from the YASH scavenger hunt in your choice of edition (print or eBook).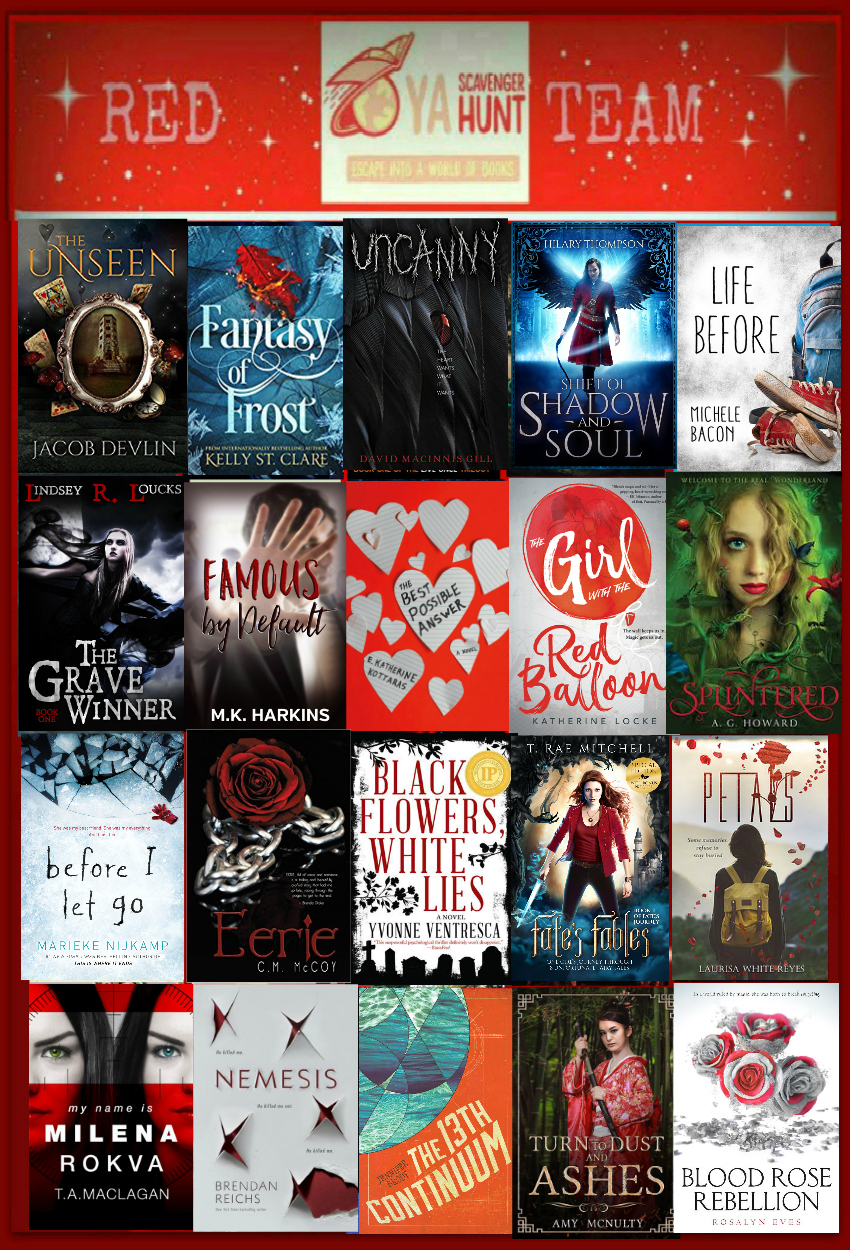 Giveaway #2: There's a similarity between, Hailey, the main character in EERIE and Fate, the main character in FATE'S FABLES, depicted on the cover below.  Guess what that similarity is in the comments on this post for a chance to win a $10 Amazon Gift Card!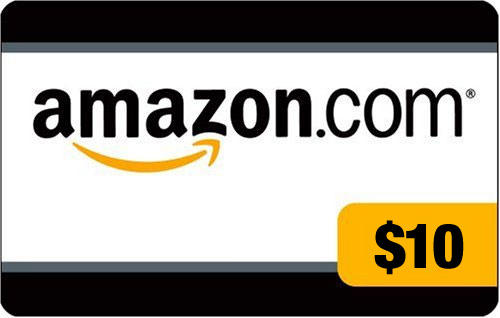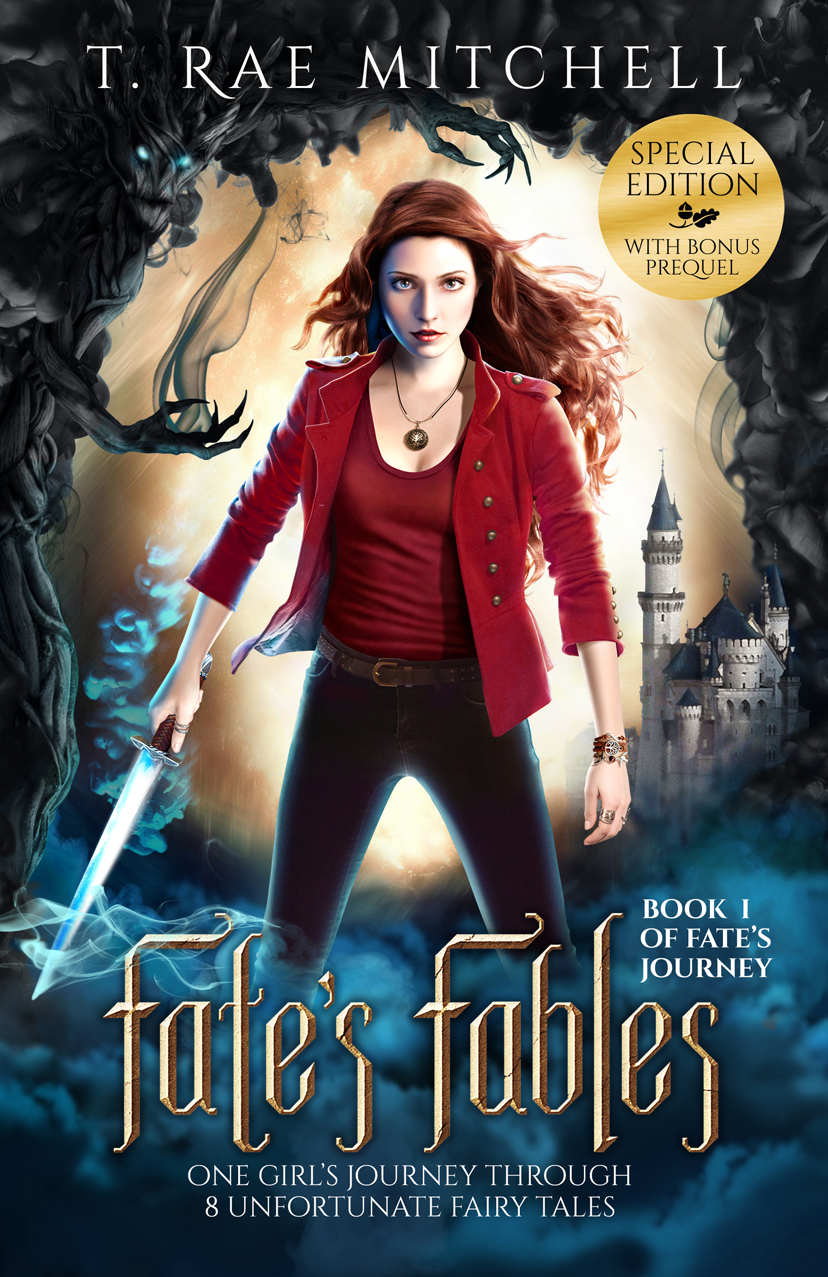 FATE'S FABLES by T. Rae Mitchell
Genre: Young Adult Fantasy

This beautifully intricate fantasy, with its feisty heroine, breath-taking action and heart-wrenching romance, will delight fans of The Lunar Chronicles and Court of Thorns and Roses.
Reality sucks. Make-believe rocks. That's been Fate Floyd's motto for as long as she's been a fantasy geek. But now she can hardly tell what's real and what's not. She's been spelled and mysteriously trapped within a deadly fairy tale world bound by the Book of Fables. Her only way home is to travel through the book's 8 unfortunate fairy tales and change them into happily-ever-afters. And if dealing with scheming sorceresses, greedy goblins and heartless faeries isn't enough to test her sanity, there's Finn. The Scottish boy who looks like he stepped straight out of her dreams. As it turns out, make-believe isn't as fun as Fate thought it would be. The reality is, her road to freedom isn't straight, and danger lurks around every bend.
---
EXCLUSIVE CONTENT
---
T. Rae is currently at work on Fate's War, book three of her Fate's Journey series. Here's hoping she writes 16 books in this series! Her main character, Fate Floyd, began her journey in book one, Fate's Fables as a fantasy geek who bumbled through more than half of the darkly enchanted fairy tales she was trapped inside before she tasted true power and took the sword by the hilt. Unfortunately, she was stripped of of her super powers In the second book, Fate's Keep, where she was forced to dig deep for her own courage and strength. In Fate's War, she's now taking extreme measures to level up and face the evil forces weighing down on her from all sides.
She's now sharing top secret exclusive content of the first chapter of Fate's War.
Chapter 1 – Fate's War
Doomsday
Fate pulled back the arrow, straining the bow, directing the sum of all her failures through the muscles of her arms and down the steel shaft. She held the full draw until her bow arm trembled. Inhaling deeply, she relaxed her shoulder and released the arrow.
The shot cut the air, slicing through the holographic Chimera's leathery wing.
"Damn," she muttered. Another soft shot. SIXTEEN arrows in, and she still hadn't hit the creature's vulnerable underbelly. She couldn't seem to relax her fingers on the release and kept dropping her shoulder too much.
She could easily make herself feel better about her rusty archery skills by choosing an easier target, but this was one mark she needed to conquer. When she'd faced the real Chimera a few weeks earlier, she'd had to be rescued by her best friend who'd had far less experience with monsters than Fate had.
Fate's heart grew heavy, as it always did, at the thought of Jessie and what she must be suffering as a prisoner of the power-hungry sorceress, Kaliena. Was she being tortured? Or was she still the unfeeling automaton Kaliena had turned her into? The last time she'd seen Jessie, there'd been nothing left of her childhood friend. Kaliena had taken control of the Dragon Eye Jessie had been wearing. She was still bothered by the memory of Jessie's vacant stare as she stood by and watched Kaliena unleash a fiery storm onto Fate that had nearly killed her.
Was Jessie even alive? She hated to think it, but it probably didn't matter if she was. Either way, her best friend was gone.
Breathing hard against the tightness in her chest, Fate nocked another arrow and let it fly. The dying roar of the holographic Chimera as it thrashed at the arrow stuck in its belly gave her little satisfaction.
Working herself into the ground to sharpen her combat skills would only get her so far. So far all she had to show for it was increased fatigue and aching muscles. Dropping the bow at her side, Fate sighed tiredly as she tilted her head to stare at the electric daylight shining from the training arena's arched ceiling. She was up against too much. Kaliena's reach was growing. She'd taken over three-quarters of the Keep already. It wouldn't be long before she controlled every inch of the arcane storehouse of magical objects.
The dread Fate woke with intensified each morning, wondering if that would be the day Kaliena mounted her attack upon them. She knew deep down inside she would lose if it happened now. The only way she could protect herself and loved ones was if she possessed powers equal to Kaliena's.
The shadow of her failures inevitably darkened Fate's thoughts to desperate levels. They haunted her daily. If she hadn't lost the extraordinary powers she'd gained from a war goddess during her time in the Book of Fables–as well as the courage those powers had given her–she would've saved herself from that Chimera. Had she been swift as thought, she could've saved Lincoln from being devoured by a dragon. If she'd been stronger, she could've kept Jessie from falling under Kaliena's control.
Everything would be different…better, if Fate hadn't been reduced to her normal human frailty. She clenched the bow with all her strength. She didn't know how she would do it, or when, but she was determined to get a major upgrade in the very near future.
"Nice shot, love."
Startled by Finn's voice, Fate glanced over her shoulder. He crossed the expanse of the training court in long easy strides. His cotton shirt breezed loosely against his tapered waist as her gaze trailed over him. His hair had grown while they'd been apart. The burnished gold of his wavy hair now grazed his broad shoulders. Her heart raced as the sight of him chased back the darkness like nothing else could. Dropping the bow, she shrugged off the quiver with a clatter of arrows falling over the stone floor and went to him.
Finn smiled, his eyes glittering like emeralds as he took her in his arms. She sank against him, breathing in the woodsy scent of sandalwood soap lingering on his skin and tightened her hold on him. She didn't think she'd ever get used to the thrill his presence incited after suffering his absence for so long. Their relationship had been riddled with hardships from the moment they'd first met, and even though Finn assured her they would always be together, she couldn't shake the feeling he would be taken from her at any moment.
To read more, click HERE.
---
About the Author

---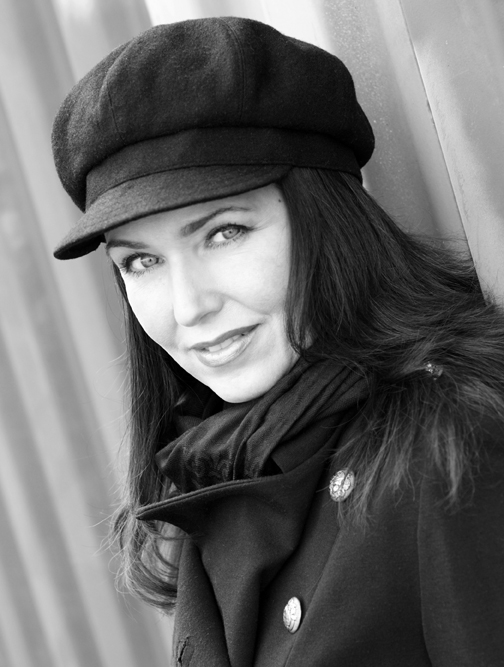 T. Rae Mitchell spent much of her youth dreaming up fantastical stories. Unfortunately, she didn't outgrow this tendency and sometimes took playing make-believe a bit far. Like when a wizard hid dragon beans in the backyard, leaving her son convinced he could grow his own dragons. Needless to say, disappointments were had. That's when T. Rae funneled her crazy imagination into Fate's Fables, which can be found on numerous Amazon Top 100 Best Seller lists.