Today's Top-Rated Kindle Freebies!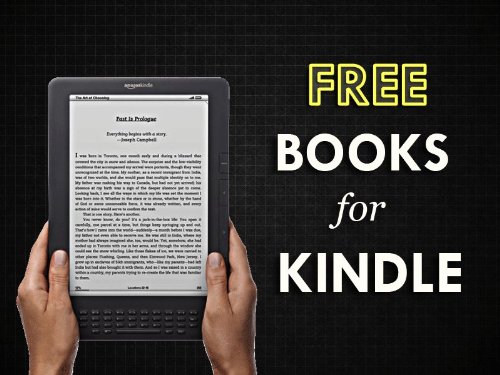 🙂 Follow North of Normal Reviews with Bloglovin 🙂
Download these Kindle books for FREE from Amazon!

CHECK THE PRICE BEFORE YOU ONE-CLICK
And hurry! Get them before the sales end!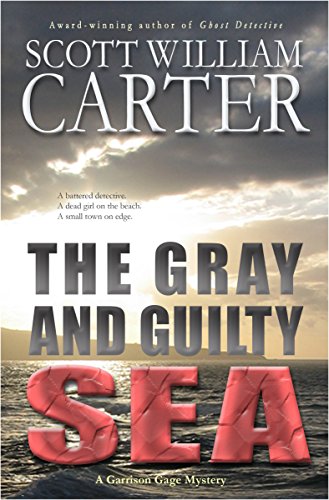 The Gray and Guilty Sea
By Scott William Carter
Crime Fiction
Free!
http://amzn.to/2mJpDYP


Haunted by his wife's murder, private investigator Garrison Gage is hiding out in a small seaside town — until the discovery of a girl's corpse draws him back into the game. A gripping mystery with nearly 1,200 five-star reviews on Amazon.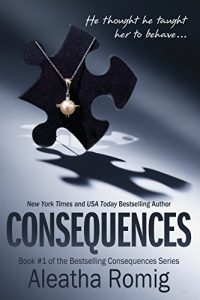 Consequences
By Aleatha Romig
18+ Erotic Suspence
Book #1 of the bestselling Consequences series from New York Times and USA Today bestselling author Aleatha Romig comes a suspenseful thriller about secrets and deception, passion and love, choices and consequences.
Every action has consequences.
Waking in an unfamiliar bedroom in a luxurious mansion, Claire Nichols is terrified to discover that a chance encounter led her into the cruel hands of her abductor, Anthony Rawlings. Claire has no understanding of why she's there, but it's been made abundantly clear—she is now his acquisition and every action has consequences.
Learn the rules to survive.
Facing incomprehensible circumstances, Claire must learn to survive her new reality—every aspect of her livelihood depends upon the tall, dark-eyed tycoon who is a true master of deception. Driven by unknown demons, he has no tolerance for imperfection, in any aspect of his life, including his recent acquisition. Anthony may appear to the world as a handsome, benevolent businessman, but in reality Claire knows firsthand that he's a menacing, controlling captor with very strict rules: do as you're told, public failure is not an option, and appearances are of the utmost importance.
Captivate the captor.
To fit together the pieces of the puzzle, Claire must follow his rules. Will her plan work, or will Anthony become enthralled by Claire's beauty, resilience, and determination, changing the game forever? If that happens, will either of them survive the consequences?
YA Post-Apocolypse
Free!

On one side of the island's vast Wall, children must fend for themselves. Leia is used to it — but she's always been curious about what lies beyond the confines of her world. Then she meets Walt, who hails from the other side…
Their island world is about to change… for better or for worse.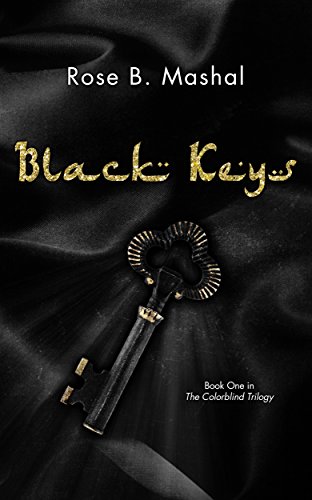 BLACK KEYS
by Rose B. Mashal
New Adult Romance
A Muslim Arab Prince with a heavy weight of responsibilities on his shoulders and a young Catholic American woman with a dark, haunted past living inside her heart. Unexpectedly thrust together in a deal of betrayal brokered by her brother, the last thing she imagines when she goes to his wedding in a kingdom far away from her home, is to find out that it's her own wedding, as well.
A bright, independent CEO struggling to live this new life, where the traditions and rules are too numerous to keep up with, and an attractive, intelligent prince wanting nothing more than for his bride to find the black keys.
Fate steps in to teach the troubled new princess a few lessons about love, life, understanding, and acceptance, while destiny forces the Crown Prince into allowing his beautiful wife to break a rule or two.
Because when it comes to love, rules blur and traditions fade.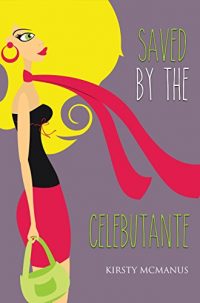 SAVED BY THE CELEBUTANTE
by Kirsty McManus
Romantic Comedy
Free!

The one thing keeping Chrissie sane when her marriage implodes is her job as publicist to celebutante Kahlua – but when Chrissie inadvertently ruins Kahlua's chance to audition for a Hollywood movie, she goes on a quest to track down director Peter Carson, only to find herself stuck at a festival in the Nevada desert.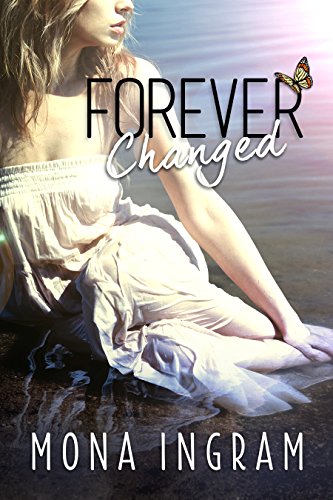 FOREVER CHANGED
By Mona Ingram
New Adult Romance
Free!

There's nothing like finding out you have breast cancer to make you take a second look at your life. Along with the diagnosis, Ariana finds a new reason to live when she meets tattoo artist Blaine Bennett. But Blaine's reaction when she informs him of the pending double mastectomy isn't what she expected. Can two people who so obviously belong together deal with the outside forces keeping them apart?
Each book in the 'Forever' series focuses on a woman at a crossroads in her life. These romances contain no graphic sex, but instead focus on the woman's story, and how her journey leads to love. Novella-length at between 32,00-40,000 words, they are complete stories, and may be read in any order. Enjoy!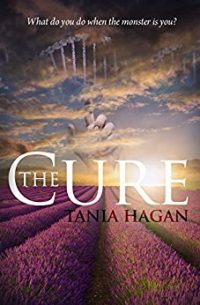 THE CURE
By Tania Hagan
YA SciFi/Dystopian

Free!

Beautiful and brilliant, eighteen-year-old Genesis Weatherby lives a charmed life as the clone of a long-dead silent film star. She is loved by her close-knit family as well as her two best friends, and being a clone isn't so bad when everyone in the world is one too.
Thanks to an organization known as GOD, there have been no Original births in one hundred and thirty years. In a successful attempt to eradicate cancer, GOD has taken control of human procreation, and only the human copies that are proven to be free of the once devastating disease are allowed to thrive.
Genny never questions anything about her world, until she meets handsome and mysterious Nat Wilkinson. Now, she is forced to make choices that can alter the course of her life, as well as the lives of everyone on the planet.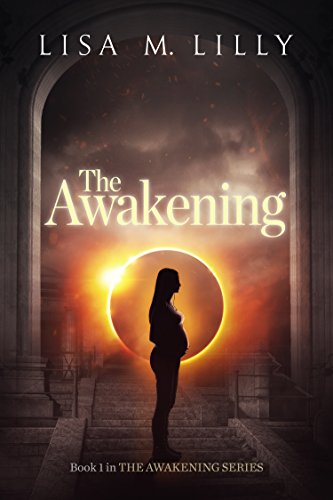 THE AWAKENING
By Lisa M. Lilly
Adult horror/occult

Free!

A "gem of a thriller with a huge concept that rivals the Da Vinci Code…" – G. Goshgarian
An inexplicable pregnancy…
Tara folded and unfolded the pink referral slip. Her fingers made sweat marks on the paper. "I can't be pregnant. I haven't had sex."Lisa M. Lilly's heart pounding supernatural thriller, The Awakening, tells the story of one young woman who finds her life at risk over a phenomenon she cannot understand. Tara Spencer is at a loss. She recently learned she is pregnant, despite never having had sex. Her fiancé breaks up with her, convinced she cheated on him, her plans for medical school are derailed, and even her parents and best friend doubt her story.
A Powerful Cult…
Only a stranger, Cyril Woods, claims to believe that Tara is still a virgin. A member of The Brotherhood religious order, Cyril tells her the child is a possible new messiah. But when prenatal tests reveal shocking information, The Brotherhood, fearing Tara will trigger an Apocalypse, becomes her enemy. As the forces aligned against her close in, Tara fights for her life, seeking a safe place to give birth and the answer to one question:Are she and her child meant to save the world or destroy it?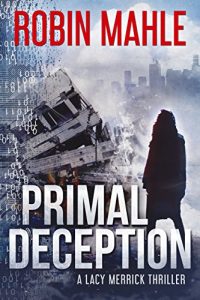 PRIMAL DECEPTION
By Robin Mahle
Political Thriller

Free!

From the bestselling author of the Kate Reid crime thrillers…
FBI civilian data analyst, Lacy Merrick, manages the threat of terrorism every day. But when terror strikes home, she is faced with a new reality and a new enemy.
When she crosses paths with Special Agent Will Caison after the tragic incident, Lacy begins to unravel a furtive plot to discredit not only her, but her husband and cyber security expert, Jay Merrick. The plot, she soon discovers, balances on the tip of a deeply embedded secret that has the potential to destroy a nation.
Lacy recruits Agent Caison and long-time friend and hacker, Aaron Hunter, to help her find those responsible for taking the lives of so many Americans. She must clear the cloud of suspicion around her family and reveal a truth that will inflame a fearful public. But powerful enemies surround her every move and will employ all necessary resources to keep Lacy and everyone she loves silent forever.
Fans of Robin Mahle's Kate Reid series might remember Special Agent Will Caison as she reintroduces him alongside Lacy Merrick. And once again, she delivers on a spectacular level with the first book in this new and thrilling series.
---
Current Giveaways
---
Win over $100 in bookish prizes in these current giveaways. But hurry! Some are ending soon!
Note: CM McCoy's Contest Policy applies. Rafflecopter terms and conditions also apply. No Purchase necessary to enter. Void where prohibited.
$25 Amazon Gift Card: https://www.nightowlreviews.com/V5/Blog/Articles/Eerie-25-by-CM-McCoy
$20 PayPal Cash or Amazon Gift Card: http://www.cmmccoy.com/blog/giveaway-20-paypal-cash/
$20 Amazon Gift Card: http://www.yabookscentral.com/blog/spotlight-on-eerie-by-c-m-mccoy
$10 in Books (Amazon or Book Depository): http://www.cmmccoy.com/blog/review-giveaway-the-deathday-letter-by-shaun-hutchinson/
$10 Amazon Gift Card: http://www.cmmccoy.com/blog/guest-post-giveaway-channeling-your-inner-miss-piggy/
BEAUTIFUL BROKEN GIRLS in hardcover: http://www.cmmccoy.com/blog/2832-2/
Sterling Silver / CZ "Follow Your Heart" Necklace: http://www.cmmccoy.com/blog/cover-reveal-giveaway-the-heartbeat-hypothesis-by-lindsey-frydman-sweet-college-romance/
Sterling Silver Wishbone Pendant Necklace: http://www.cmmccoy.com/blog/first-pages-giveaway-lessons-in-gravity-by-megan-westfield-contemporary-romance/
Recent release/Top Rated Book from CM McCoy's library: http://www.cmmccoy.com/blog/giveaway-instagram-for-book-lovers-3-tips-from-an-expert-no-its-not-me/
Signed Paperback of EERIE (Goodreads Giveaway): https://www.goodreads.com/giveaway/enter_choose_address/217854-eerie
CARAVAL by Stephanie Garber (Hardcover): https://www.instagram.com/p/BQ_BtVulryI/?hl=en
Butterfly Journal: http://www.cmmccoy.com/blog/review-giveaway-the-bone-witch-by-rin-chupeco-teen-high-fantasy/
Choice of book by Lauren Oliver: http://www.cmmccoy.com/blog/review-giveaway-panic-by-lauren-oliver-ya-friendship-fiction/
TEMPEST IN A TEAPOT by Amanda Cooper in paperback: http://www.cmmccoy.com/blog/2845-2/
Save
Save