Review + #Giveaway: FAMOUS BY DEFAULT by M.K. Harkins (YA Romance)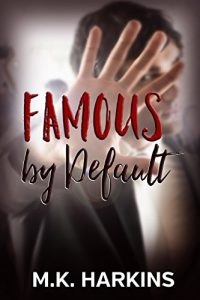 FAMOUS BY DEFAULT
by M.K. Harkins
YA Romance
#1 Amazon Bestseller in its category today!
Publisher: Amazon Digital Services
Release Date: 19 Mar 2017

Jax
Buried,
By my family's fame.
Dying to escape the limelight,
And finally, I do.
Being raised as a Jayne, I'm under constant scrutiny. The rock band my brothers formed makes it impossible to stay under the radar. Paparazzi, tabloids, rabid fans–you name it and I've got it. It all makes me sick. But getting shipped off to crazy Aunt Betty's house in my senior year of high school isn't any better. After all, there isn't a stray kid or pet in the world that my aunt wouldn't take in. Then I meet her. She's cautious, suspicious, and not interested in me at all. But that's fine by me. Sivan Holt may be beautiful and intelligent, but she's nothing I'm looking for.
Sivan
Drowning,
In my past.
Struggling to feel settled.
And finally, I do.
Growing up in the foster care system, I longed for a sense of belonging. All I wanted was a place to call home.
At the age of seventeen, I'm finally starting to feel it here. Home. When he comes along, it unsettles me. I don't want him to ruin everything we've built–everything that matters. Jax Jayne is arrogant, privileged, and I want nothing to do with him. But those green eyes of his keep drawing me in. If I let down my walls, will it be my final undoing?
---
About the Author

---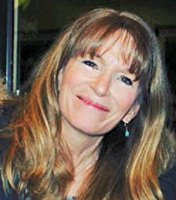 MK has always been a voracious reader. After hitting a dry spell of reading material, she decided to write the kind of book she'd like to read. This resulted in the creation of her debut novel, Intentional. (Award for Best Sweet Romance – eFestival of Words- August 2014) Unintentional, Breaking Braydon, Taking Tiffany, and The Reader soon followed. MK's newest release is Famous by Default (now available) The follow-up to The Reader – The Jack is due out late 2017. When she's not writing novels, she likes to spend her free time traveling the world, splashing in mud puddles (She lives in Seattle, what can she say?), watching movies and reading (!) She LOVES to hear from her readers! Sign up for MK's Newsletter and receive a free book!
website | facebook | twitter | email | newsletter
---
Review by eKelly

---

A sweet teen romance with lovable characters.
FAMOUS BY DEFAULT is a teen/young adult stand-alone romance by M.K. Harkins.
This is a new author to me. When I saw this book on NetGalley, the cover and blurb both looked interesting. The author provided an eCopy in exchange for an honest review.
The book's blurb promised two emotionally broken characters who have built protective walls around themselves for different reasons, and the polot delivered just that.
Jax Jayne's brothers formed a famous rock band that has legions of salivating teenage girls stalking them as well as paparazzi hot on their heels.  Jax, the youngest at seventeen years old and quite possibly the most handsome of the brothers also has musical talents but wants no part of the famous life or the band and tries his best to stay under the radar. This only makes the fans and paparazzi more rabid because of the mysteriousness surrounding him. His mother and father, concerned that's he's becoming withdrawn and avoiding his musical talent, send him to Iowa to stay with his Aunt Betty on a farm for some respite. In Iowa, he meets Sivan, who's a foster child living with his Aunt Betty. Sivan has been shuffled through the system for 7 years, abused in some homes, and at seventeen, she's hoping Aunt Betty will be her forever home. On the farm Sivan bonds immediately with Betty but trusting Jax proves more challenging.
This is a sweet coming-of-age love story about trust, love, life, and overcoming tragedy and loss. This wasn't as deeply moving as I'd expected, and I found the plot a bit predicable. Nonetheless it's a heartwarming and fast-paced story that I enjoyed. The character development and the dynamic between Jax, Sivan, and Aunt Betty made this book so special! The author so beautifully develops them that I fell in love with every single one. I wish I had my very own Aunt Betty!
The romance is sweet, there is no violence, and fewer than four mild curse words used in the entire book. I'd recommend this for readers aged 14 years and older who like character-driven, sweet romance stories.
FAMOUS BY DEFAULT earns 3.5 North of Normal stars!


---
New Giveaway
---
White Gold Plated Austrian Crystal Four-Heart Clover Pendant Necklace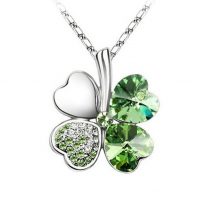 Note: CM McCoy's Contest Policy applies. Rafflecopter terms and conditions also apply. No Purchase necessary to enter. Void where prohibited.
a Rafflecopter giveaway

---
Other Current Giveaways
---
Win over $300 in bookish prizes in these current giveaways. But hurry! Some are ending soon!
Note: CM McCoy's Contest Policy applies. Rafflecopter terms and conditions also apply. No Purchase necessary to enter. Void where prohibited.
Kindle Paperwhite Giveaway: http://www.cmmccoy.com/blog/kindle-paperwhite-giveaway
Amazon Fire TV Stick: http://www.cmmccoy.com/blog/fire-tv-stick-giveaway-first-pages-feature-with-laura-heffernan
$30 Book Shopping Spree: http://www.cmmccoy.com/blog/review-giveaway-belle-by-cameron-dokey-a-retelling-of-beauty-and-the-beast-once-upon-a-time
$25 Gift Card: http://www.cmmccoy.com/blog/giveaway-rts-spooky-ya-authors-part-1
$10 Gift Card: http://www.cmmccoy.com/blog/review-giveaway-the-hereafter-by-jessica-bucher-college-paranormal-romance
ROYAL BASTARDS (hardcover): http://www.cmmccoy.com/blog/review-giveaway-royal-bastards-by-andrew-shvarts
Trendy Spring Scarf: http://www.cmmccoy.com/blog/review-giveaway-first-pages-alterations-by-stephanie-scott
THE CROOKED SIXPENCE (hardcover): http://www.cmmccoy.com/blog/review-giveaway-the-crooked-sixpence-by-jennifer-bell-middle-grade-fantasy/
VICIOUS MASKS (paperback): http://www.cmmccoy.com/blog/review-giveaway-these-vicious-masks-by-shanker-zekas
WRECK THIS JOURNAL: http://www.cmmccoy.com/blog/review-giveaway-openly-straight-by-bill-konigsberg/
BEAUTY AND THE BEAST book of choice: http://www.cmmccoy.com/blog/sunday-fun-day-giveaway/
White Gold Plated/Crystal 4-Heart Clover Necklace: http://www.cmmccoy.com/blog/review-giveaway-famous-by-default-by-m-k-harkins-ya-romance
EPIC FAIL (Paperback) by Claire LaZebnik: http://www.cmmccoy.com/blog/review-giveaway-things-i-should-have-known-by-claire-lazebnik
GEOGRAPHY CLUB (Paperback) by Brent Hartinger: http://www.cmmccoy.com/blog/review-giveaway-boy-meets-boy-by-david-levithan-teen-lgbt-romance
Courage Pendant: http://www.cmmccoy.com/blog/review-giveaway-straight-by-seth-king-18-gay-romance/
BEASTLY paperback: http://www.cmmccoy.com/blog/review-giveaway-beastly-by-alex-flinn-ya-fairy-tale-retelling