Release Day #Giveaway: LEGEND HAS IT by Elliott James (Urban Fantasy)
Perfect for SUPERNATURAL fans of Dean Winchester — don't miss the latest book in the series with every girl's dream book boyfriend, the wise-cracking, damaged goods hottie, John Charming!
"The Pax Arcana books are seriously good reads. Action, humor, and heart with unexpected twists and turns. If you are (like me) waiting for the next Butcher or Hearne — pick up Elliott James. Then you can bite your nails waiting for the next James, too."―Patricia Briggs, New York Times #1 bestselling author of the Mercy Thompson series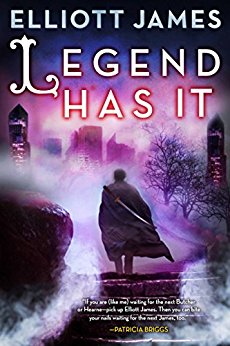 Legend Has It
A stand-alone novel and Pax Arcana #5
by Elliot James
Publisher: Orbit Publishing
Publication Date: April 18, 2017
"Living the dream just became a nightmare . . ."
Someone, somewhere, is reading a magic book that is reading them right back. Real life is becoming a fairytale: high school students are turning, quite literally, into zombies, subway workers into dwarves, drug addicts into vampires.
John Charming and his motley band of monster hunters are racing to find the villain of this story, following the yellow brick road through a not so wonderful wonderland. And if they can't find Reader Zero before the book is closed, there won't be a happily ever after again.
Purchase Links:
Amazon |  B&N | BAM | Chapters | Indies | Kobo | Book Depository | iBooks
Other Books in the Series: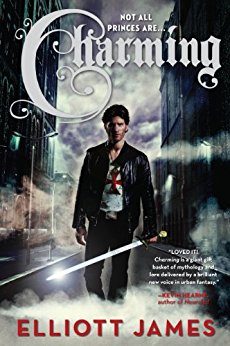 Charming (Pax Arcana #1)
by Elliot James

"Not all princes are charming…"
He comes from a line of Charmings — an illustrious family of dragon slayers, witch-finders and killers dating back to before the fall of Rome. Trained by a modern day version of the Knights Templar, monster hunters who have updated their methods from chainmail and crossbows to kevlar and shotguns, he was one of the best. That is — until he became the abomination the Knights were sworn to hunt.
That was a lifetime ago. Now, he tends bar under an assumed name in rural Virginia and leads a peaceful, quiet life. One that shouldn't change just because a vampire and a blonde walked into his bar… Right?
Add to Goodreads: https://www.goodreads.com/book/show/17333338-charming
Purchase Links
Amazon | B&N | TBD | IndieBound
About author Elliott James
An army brat and gypsy scholar, Elliot James is currently living in the Blueridge mountains of southwest Virginia. An avid reader since the age of three (or that's what his family swears anyhow), he has an abiding interest in mythology, martial arts, live music, hiking, and used bookstores.
Website | Twitter | Facebook | Goodreads
---
New Giveaway: Paperback of CHARMING by Elliott James



---
Note: CM McCoy's Contest Policy applies. Rafflecopter terms and conditions also apply. No Purchase necessary to enter. Void where prohibited.
---
Other Giveaways Currently on this Blog

---
Win over $300 in bookish prizes in these current giveaways. But hurry! Some are ending soon!
Note: CM McCoy's Contest Policy applies. Rafflecopter terms and conditions also apply. No Purchase necessary to enter. Void where prohibited.
Kindle Paperwhite Giveaway: http://www.cmmccoy.com/blog/kindle-paperwhite-giveaway
Amazon Fire TV Stick: http://www.cmmccoy.com/blog/fire-tv-stick-giveaway-first-pages-feature-with-laura-heffernan
$30 Book Shopping Spree: http://www.cmmccoy.com/blog/review-giveaway-belle-by-cameron-dokey-a-retelling-of-beauty-and-the-beast-once-upon-a-time
$25 Gift Card: http://www.cmmccoy.com/blog/giveaway-rts-spooky-ya-authors-part-1
$10 Gift Card, Choice of Book, AND Trendy Spring Scarf: http://www.cmmccoy.com/blog/giveaway-hoppy-easter-eggstravaganza-blog-hop/
ROYAL BASTARDS (hardcover): http://www.cmmccoy.com/blog/review-giveaway-royal-bastards-by-andrew-shvarts
VICIOUS MASKS (paperback): http://www.cmmccoy.com/blog/review-giveaway-these-vicious-masks-by-shanker-zekas
WRECK THIS JOURNAL: http://www.cmmccoy.com/blog/review-giveaway-openly-straight-by-bill-konigsberg/
BEAUTY AND THE BEAST book of choice: http://www.cmmccoy.com/blog/sunday-fun-day-giveaway/
White Gold Plated/Crystal 4-Heart Clover Necklace: http://www.cmmccoy.com/blog/review-giveaway-famous-by-default-by-m-k-harkins-ya-romance
EPIC FAIL (Paperback) by Claire LaZebnik: http://www.cmmccoy.com/blog/review-giveaway-things-i-should-have-known-by-claire-lazebnik
GEOGRAPHY CLUB (Paperback) by Brent Hartinger: http://www.cmmccoy.com/blog/review-giveaway-boy-meets-boy-by-david-levithan-teen-lgbt-romance
Courage Pendant: http://www.cmmccoy.com/blog/review-giveaway-straight-by-seth-king-18-gay-romance/
BEASTLY paperback: http://www.cmmccoy.com/blog/review-giveaway-beastly-by-alex-flinn-ya-fairy-tale-retelling
Paranormal University Survival Kit: http://www.cmmccoy.com/blog/news-giveaway-pitchwars-roadshow-and-ya-spooky-slumber-party
THE GLITTERING COURT: http://www.cmmccoy.com/blog/review-giveaway-the-glittering-court-by-richelle-mead-ya-fantasy-romance
Choice of ANY book mentioned on this blog: http://www.cmmccoy.com/blog/review-giveaway-dont-you-cry-by-mary-kubica-thriller
Alaska's North Pole Coffee Company Coffee Candy (Mocha Coffee Beans): http://www.cmmccoy.com/blog/review-giveaway-daddy-dearest-by-paul-southern-psychological-thriller
Angel Perfume Decanter Necklace: http://www.cmmccoy.com/blog/review-giveaway-birthright-by-jessica-ruddick-ya-paranormal
CHARMING by Elliott James (Paperback): http://www.cmmccoy.com/blog/release-day-giveaway-legend-has-it-by-elliott-james-urban-fantasy