College Paranormal Romance

Publisher: Amazon Digital Services
Release Date: 14 Mar 2016

Nin has no recollection of her death.
The things she does remember, like her cruel boyfriend, troubled father, and absent mother, she'd like to forget.
Dylan doesn't need to remember his death to know that he deserved it. Who needs memories when you have the scars?
Sparks ignite when the two, very different, strangers meet. Together they spend one endless summer exploring their new world. Suddenly, their after-lives hold more possibility and promise than their tragic teenage lives ever did.
But no dream lasts forever, and all too soon, harmful memories from their pasts emerge and threaten to tear them apart. Given the chance to change their fates, Nin and Dylan must decide–life or love.
Weaving through past and present and alternating perspectives, The Hereafter is an emotional journey about young love and second chances.
---
About the Author

---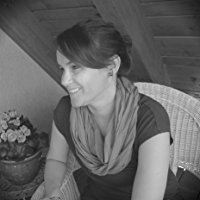 Jessica Bucher is long-time lover of stories about young love and characters who are larger-than-life. It's why she was swept off her feet by a soldier who stole her away to travel the world. Thirteen years later, they have two (almost three) children and more stamps in their passports than they can count. Seeing the world has inspired many stories and novels, though The Hereafter is Bucher's debut. She is a Creative Writing graduate, blogger, yoga teacher, music lover and member of the Ansbach Writers Group.
---
Review by eKelly

---

Just…Wow.  Have the aspirin ready because you're in for a serious book hangover after reading this.
THE HEREAFTER by Jessica Bucher is Young Adult/Crossover standalone fantasy romance.
Jessica Bucher is a new author to me.  I saw this title offered on NetGalley, and the description of the book sounded so different I wanted to check it out.
From the blurb I knew to expect something unconventional, and boy did I get it.
Nin and Dylan have no recollection of their deaths. They are "living" in the hereafter, where they seem to be the only two around, existing not in heaven or hell but some place else. For what seems like an entire summer, they explore their world and experience all the things they didn't do in life. Slowly memories of the events leading up to their deaths come back to them. With each memory, a wedge drives itself between their friendship and blossoming love. THE HEREAFTER is a journey through Nin and Dylan's past, present, and future, and the possibiliy of changing fate.
First I must say that I am recommending this book to everyone I know. EVERYONE. It's fantastic! I'm shortening this review because I don't want to say too much and ruin the wonder of this reading experience with any spoilers. There is not one single thing I didn't like about this story. I was so engrossed in this book and in the characters that I finished reading this in 1.5 days by ignoring my job during the day and ignoring my family in the evening. The writing is amazing, but it's the characters and the deep connection I felt to these characters that made this book stand out. The romance between Nin and Dylan is incredibly classy and contained heart-melting moments I wanted to last and last! Every time Dylan told Nin something romantic, I just melted. for example: "I came to say that I've seen your face everyday of my life since I was six. Every moment of my life, you've been with me. I don't think you really lost me. You see, I've been waiting for you my entire life." Swoon!
The story is told in alternating points of view (Nin and Dylan.) It also alternates in time, weaving episodes from the past when both were alive, with  the present in The Hereafter. Nin and Dylan's heartbreaking childhoods and the events that lead up to their tragic deaths were especially intriguing. There is no cliffhanger in this story, and the plot elements wrap up very nicely and in the best possible way.
Read this book!
Seriously, read this book!
Though THE HEREAFTER is shelved under YA/teen romance, I think it reads more New Adult/College Romance, and due to the language, adult situations, and implications, I would recommend this for mature teens only, with a dramatic lean toward 18 years old and over.
THE HEREAFTER earns 5 North of Normal Stars!


---
Featured Giveaway

---
$10 Amazon Gift Card

Note: CM McCoy's Contest Policy applies. Rafflecopter terms and conditions also apply. No Purchase necessary to enter. Void where prohibited.
---
Other Current Giveaways
---
Win over $300 in bookish prizes in these current giveaways. But hurry! Some are ending soon!
Note: CM McCoy's Contest Policy applies. Rafflecopter terms and conditions also apply. No Purchase necessary to enter. Void where prohibited.
Kindle Paperwhite Giveaway: http://www.cmmccoy.com/blog/kindle-paperwhite-giveaway
Amazon Fire TV Stick: http://www.cmmccoy.com/blog/fire-tv-stick-giveaway-first-pages-feature-with-laura-heffernan
$30 Book Shopping Spree: http://www.cmmccoy.com/blog/review-giveaway-belle-by-cameron-dokey-a-retelling-of-beauty-and-the-beast-once-upon-a-time
$25 Gift Card: http://www.cmmccoy.com/blog/giveaway-rts-spooky-ya-authors-part-1
$10 Gift Card: http://www.cmmccoy.com/blog/review-giveaway-the-hereafter-by-jessica-bucher-college-paranormal-romance
ROYAL BASTARDS (hardcover): http://www.cmmccoy.com/blog/review-giveaway-royal-bastards-by-andrew-shvarts
Trendy Spring Scarf: http://www.cmmccoy.com/blog/review-giveaway-first-pages-alterations-by-stephanie-scott
THE CROOKED SIXPENCE (hardcover): http://www.cmmccoy.com/blog/review-giveaway-the-crooked-sixpence-by-jennifer-bell-middle-grade-fantasy/
VICIOUS MASKS (paperback): http://www.cmmccoy.com/blog/review-giveaway-these-vicious-masks-by-shanker-zekas
WRECK THIS JOURNAL: http://www.cmmccoy.com/blog/review-giveaway-openly-straight-by-bill-konigsberg/
BEAUTY AND THE BEAST book of choice: http://www.cmmccoy.com/blog/sunday-fun-day-giveaway/
White Gold Plated/Crystal 4-Heart Clover Necklace: http://www.cmmccoy.com/blog/review-giveaway-famous-by-default-by-m-k-harkins-ya-romance
EPIC FAIL (Paperback) by Claire LaZebnik: http://www.cmmccoy.com/blog/review-giveaway-things-i-should-have-known-by-claire-lazebnik
GEOGRAPHY CLUB (Paperback) by Brent Hartinger: http://www.cmmccoy.com/blog/review-giveaway-boy-meets-boy-by-david-levithan-teen-lgbt-romance
Courage Pendant: http://www.cmmccoy.com/blog/review-giveaway-straight-by-seth-king-18-gay-romance/
BEASTLY paperback: http://www.cmmccoy.com/blog/review-giveaway-beastly-by-alex-flinn-ya-fairy-tale-retelling
---