Teen/Young Adult Adaptation

Publisher: HarperTeen
Release Date: 8 Feb 2011


I am a beast.
A beast. Not quite wolf or bear, gorilla or dog but a horrible new creature who walks upright—a creature with fangs and claws and hair springing from every pore. I am a monster.
You think I'm talking fairy tales? No way. The place is New York City. The time is now. It's no deformity, no disease. And I'll stay this way forever—ruined—unless I can break the spell.
Yes, the spell, the one the witch in my English class cast on me. Why did she turn me into a beast who hides by day and prowls by night? I'll tell you. I'll tell you how I used to be Kyle Kingsbury, the guy you wished you were, with money, perfect looks, and the perfect life. And then, I'll tell you how I became perfectly . . . beastly.
---
About the Author

---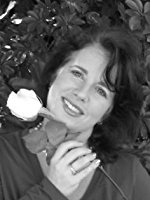 Alex Flinn was born in Syosset, New York. She learned to read at three and wanted to be a writer at five. She received her first rejection letter (from Highlights magazine) at eight. At twelve, her family moved to Miami, Florida, where she had a really hard time making friends, due to congenital shyness and a really bad haircut. So she read a lot and tried to write a novel but never finished because she had no idea what to write about.
Flinn attended a performing arts high school program, similar to that portrayed in her book, Diva, then majored in vocal performance in college. Panicked upon realizing that there weren't a whole lot of jobs for opera singers, Flinn went to law school.
Law school was, it turns out a really good place to learn to write for teenagers. Writing for teens and writing for judges are very similar because both judges and teens have a lot of demands on their time and minimal time for reading. Also, Flinn interned at the Miami-Dade State Attorney's Office, trying many domestic violence cases, which were later the inspiration for her first novel, Breathing Underwater.
Breathing Underwater was published in 2001. It received many honors, including being chosen a Top 10 Best Book for Young Adults by the American Library Association. It was followed by Breaking Point, Nothing to Lose, Fade to Black, Diva, and Beastly. Beastly is soon to be released as a motion picture. Her newest book is A Kiss in Time, a modern Sleeping Beauty.
Flinn still lives in Miami with her husband, two daughters, a dog, cat, and African Spur-Thighed Tortoise. She enjoys performing arts, biking, and travel.
---
Review by Frog

---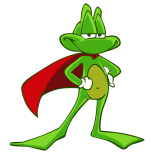 Endearing and thoroughly enjoyable but predictable.
BEASTLY by Alex Flinn is a clever, modern-day adaptation of Beauty and the Beast told in first-person, past tense from the Beast's point of view. Though the online chat room references are now outdated (MySpace), this book maintains a millennial feel.
As far as retellings go, this one stays fairly true to the original tale: mirror, roses, fury beast and all, though the paperback cover suggests something else entirely. In fact, I'd go so far as to say the cover's misleading, and after reading the book, I have to say I had absolutely NO IDEA who the blazes these two people on the cover are, but they sure as hell aren't in the book. After some research I found they're the actors from the screen adaptation of this book, neither of which bear any resemblance to the book characters. At all. The male lead on the cover looks more intriguingly handsome to me than hideous, which is so disappointing, I'm giving away my copy of this book and replacing it with the beautiful hardcover, because I'll likely read this again.
Kyle Kingsbury is an arrogant douche bag finishing up his freshman year of high school as one of the most (if not the most) handsome, rich, and popular guys in his hoity-toity private school. All the girls love him, all the guys want to be him, and he knows this. He expects this. When he insults a witch in his class, she curses him to live in a body just as ugly as his heart. The next morning he's covered in fur and absolutely hideous, but because he commits one act of non-douche-ness before he turns to the beast, the witch gives him an out. If he can find someone he loves, who loves him in return, and who will kiss him before 2 years are up, his curse will lift. His dad contacts every doctor he can find to no avail. Not even a face transplant will help his son's beastly condition, and so his dad does what every arrogant, self-centered father would: he sends his son to live in a house on the outskirts of the city with nobody but the housekeeper and a blind tutor to keep him company. Plus his dad's credit card.
This was a fast-paced, heart-warming story I read in one night before bed. I did skim the prologue and indeed all but the final chatroom sections, because they skipped forward in time, and I didn't like the break in chronology of the story. They're unnecessary, as I loved the story without them. I love a story told from the villain's point of view, and I did fall in love with Kyle, who, though perfectly hateable, missed his mom and actually seemed vulnerable next to his horrible dad. I loved the evolution of Kyle. I loved the dynamic between him and his "beauty." I loved how the traditional tale intertwined with a modern setting. THERE'S SO MUCH TO LOVE! This was a tear-jerker for sure, though predictable at times. Also, the explanation for Beauty's absence from the Beast toward the end seemed flimsy to me. This author is good, and I felt she could've come up with something far more plausible than "I couldn't find your house."
This is a must-read for fans of Beauty and the Beast. The romance is sweet, the language is tame, and the violence is mild. This book is appropriate for ages 12 and up.


---
BEASTLY Paperback Giveaway!
---
Note: CM McCoy's Contest Policy applies. Rafflecopter terms and conditions also apply. No Purchase necessary to enter. Void where prohibited.
a Rafflecopter giveaway

---
Other Current Giveaways
---
Win over $300 in bookish prizes in these current giveaways. But hurry! Some are ending soon!
Note: CM McCoy's Contest Policy applies. Rafflecopter terms and conditions also apply. No Purchase necessary to enter. Void where prohibited.
Kindle Paperwhite Giveaway: http://www.cmmccoy.com/blog/kindle-paperwhite-giveaway
Amazon Fire TV Stick: http://www.cmmccoy.com/blog/fire-tv-stick-giveaway-first-pages-feature-with-laura-heffernan
$30 Book Shopping Spree: http://www.cmmccoy.com/blog/review-giveaway-belle-by-cameron-dokey-a-retelling-of-beauty-and-the-beast-once-upon-a-time
$25 Gift Card: http://www.cmmccoy.com/blog/giveaway-rts-spooky-ya-authors-part-1
$10 Gift Card: http://www.cmmccoy.com/blog/review-giveaway-the-hereafter-by-jessica-bucher-college-paranormal-romance
ROYAL BASTARDS (hardcover): http://www.cmmccoy.com/blog/review-giveaway-royal-bastards-by-andrew-shvarts
Trendy Spring Scarf: http://www.cmmccoy.com/blog/review-giveaway-first-pages-alterations-by-stephanie-scott
THE CROOKED SIXPENCE (hardcover): http://www.cmmccoy.com/blog/review-giveaway-the-crooked-sixpence-by-jennifer-bell-middle-grade-fantasy/
VICIOUS MASKS (paperback): http://www.cmmccoy.com/blog/review-giveaway-these-vicious-masks-by-shanker-zekas
WRECK THIS JOURNAL: http://www.cmmccoy.com/blog/review-giveaway-openly-straight-by-bill-konigsberg/
BEAUTY AND THE BEAST book of choice: http://www.cmmccoy.com/blog/sunday-fun-day-giveaway/
White Gold Plated/Crystal 4-Heart Clover Necklace: http://www.cmmccoy.com/blog/review-giveaway-famous-by-default-by-m-k-harkins-ya-romance
EPIC FAIL (Paperback) by Claire LaZebnik: http://www.cmmccoy.com/blog/review-giveaway-things-i-should-have-known-by-claire-lazebnik
GEOGRAPHY CLUB (Paperback) by Brent Hartinger: http://www.cmmccoy.com/blog/review-giveaway-boy-meets-boy-by-david-levithan-teen-lgbt-romance
Courage Pendant: http://www.cmmccoy.com/blog/review-giveaway-straight-by-seth-king-18-gay-romance/
BEASTLY paperback: http://www.cmmccoy.com/blog/review-giveaway-beastly-by-alex-flinn-ya-fairy-tale-retelling