Review + Giveaway: THE GRIM STEEPER by Amanda Cooper (Cozy Mystery)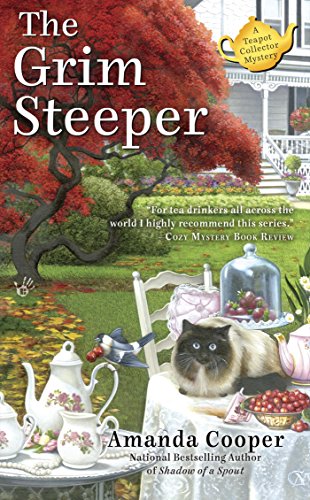 THE GRIM STEEPER (A Teapot Collector Mystery Book #3)
by Amanda Cooper
Genre: Adult Cozy Mystery
Publisher: Berkley (2 Feb 2016)
Format: Paperback, on sale on Amazon $7.19

Summary from Amazon

The national bestselling author of Shadow of a Spout invites readers back to the Finger Lakes town of Gracious Grove for more tea and murder…
Mid-October in the charming Finger Lakes town of Gracious Grove means it's time for the annual Fall Fling Townwide Tea Party. The highlight of the festivities is a roaming tea-tasting, which includes a stop at Auntie Rose's Victorian Tea House. Sophie Taylor would like to share her enjoyment of the event with her sort-of boyfriend, English teacher Jason Murphy, but Jason's dean has accused him of falsifying grades to help an athlete at the local college. Steamed and stressed, Jason shows up the night of the party with bags under his eyes.
But the dean shows up under Sophie's Japanese Maple later that night, murdered, and now Jason is suspected of far worse than fudging grade reports. It's up to Sophie, her Nana, and their friends the Silver Spouts to pore over the clues to find out who really decided to teach the dean a lesson.
---
About the Author
---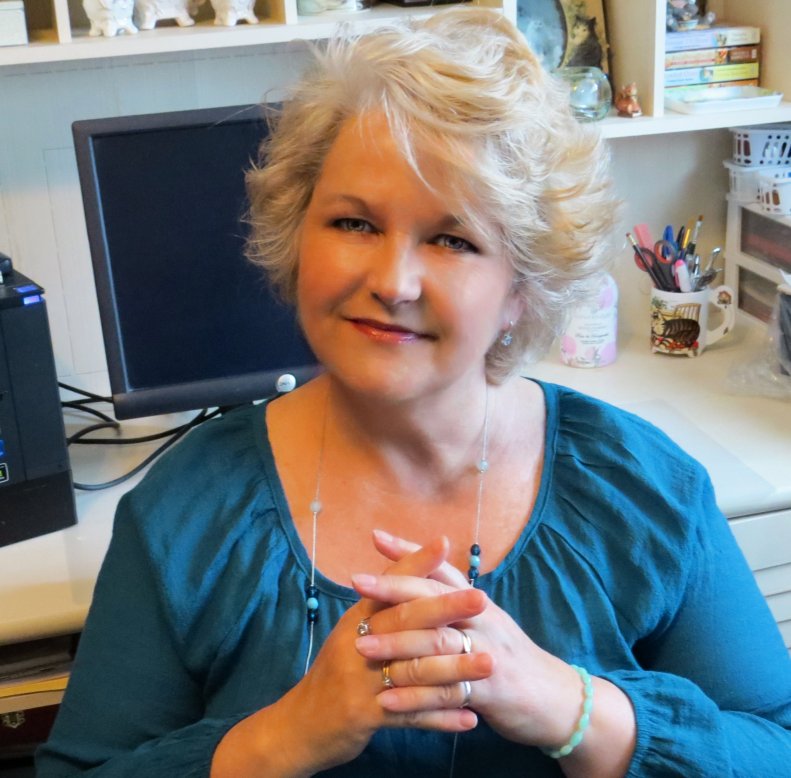 Amanda Cooper is the pen name of nationally bestselling mystery author Victoria Hamilton, who also writes the Vintage Kitchen Mystery series and the Merry Muffin Mysteries.
Amanda has always loved traditional mysteries like those of Agatha Christie and Dorothy L. Sayers, and credits her mother with introducing her to the genre at the tender age of twelve. She now loves the rollicking comedic mysteries of Joan Hess and M. C. Beaton.
Amanda enjoys reading, writing and all kinds of crafts, specifically cross stitching, watercolor painting (at which she is terrible!), crocheting and collecting vintage kitchen tools, cookbooks, and cat figurines. Like Sophie in the Teapot Collector Mysteries she collects teapots and teacups, too!
One of her greatest joys is to hear from readers who enjoy her books about their own collections, crafts and interests!
website | twitter | facebook |
---
Review by Lisa

---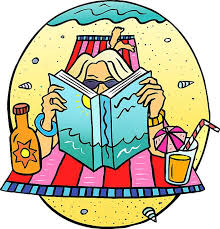 Kept me guessing till the end!
THE GRIM STEEPER is an adult amateur sleuth/cozy mystery and #3 in A TEAPOT COLLECTOR MYSTERY books by Amanda Cooper. It can be read as a stand-alone.
Seriously, I could not put this book down.
Sophie returns to Gracious Grove to help her grandma at her tea house, Auntie Rose's Victorian Tea House. During the town-wide Fall fling, the body of the local college dean turns up outside the tea house, and Sophie's boyfriend is the prime suspect. Sophie and her friends must find out who the real killer is.
I loved how the characters were written and the description of the town and the places there. There was even a recipe and tea tips included in the book. I'm looking forward to the rest of this series, and honestly, I love all the books I've read from this author. Cozy mystery lovers will enjoy this charming book.
4 North of Normal Stars!

Format: Paperback: $7.19 (currently on sale) on Amazon

---
Giveaway

---
Tempest in a Teapot (A Teapot Collector Mystery Book #1) by Amanda Cooper in paperback
---
Giveaway Round-up

---
Win over $100 in bookish prizes in these current giveaways. But hurry! Some are ending soon!
Note: CM McCoy's Contest Policy applies. Rafflecopter terms and conditions also apply. No Purchase necessary to enter. Void where prohibited.
$25 Amazon Gift Card: https://www.nightowlreviews.com/V5/Blog/Articles/Eerie-25-by-CM-McCoy
$20 PayPal Cash or Amazon Gift Card: http://www.cmmccoy.com/blog/giveaway-20-paypal-cash/
$20 Amazon Gift Card: http://www.yabookscentral.com/blog/spotlight-on-eerie-by-c-m-mccoy
$10 in Books (Amazon or Book Depository): http://www.cmmccoy.com/blog/review-giveaway-the-deathday-letter-by-shaun-hutchinson/
$10 Amazon Gift Card: http://www.cmmccoy.com/blog/guest-post-giveaway-channeling-your-inner-miss-piggy/
BEAUTIFUL BROKEN GIRLS in hardcover: http://www.cmmccoy.com/blog/2832-2/
Sterling Silver / CZ "Follow Your Heart" Necklace: http://www.cmmccoy.com/blog/cover-reveal-giveaway-the-heartbeat-hypothesis-by-lindsey-frydman-sweet-college-romance/
Sterling Silver Wishbone Pendant Necklace: http://www.cmmccoy.com/blog/first-pages-giveaway-lessons-in-gravity-by-megan-westfield-contemporary-romance/
Recent release/Top Rated Book from CM McCoy's library: http://www.cmmccoy.com/blog/giveaway-instagram-for-book-lovers-3-tips-from-an-expert-no-its-not-me/
Signed Paperback of EERIE (Goodreads Giveaway): https://www.goodreads.com/giveaway/enter_choose_address/217854-eerie
CARAVAL by Stephanie Garber (Hardcover): https://www.instagram.com/p/BQ_BtVulryI/?hl=en
Butterfly Journal: http://www.cmmccoy.com/blog/review-giveaway-the-bone-witch-by-rin-chupeco-teen-high-fantasy/
Choice of book by Lauren Oliver: http://www.cmmccoy.com/blog/review-giveaway-panic-by-lauren-oliver-ya-friendship-fiction/