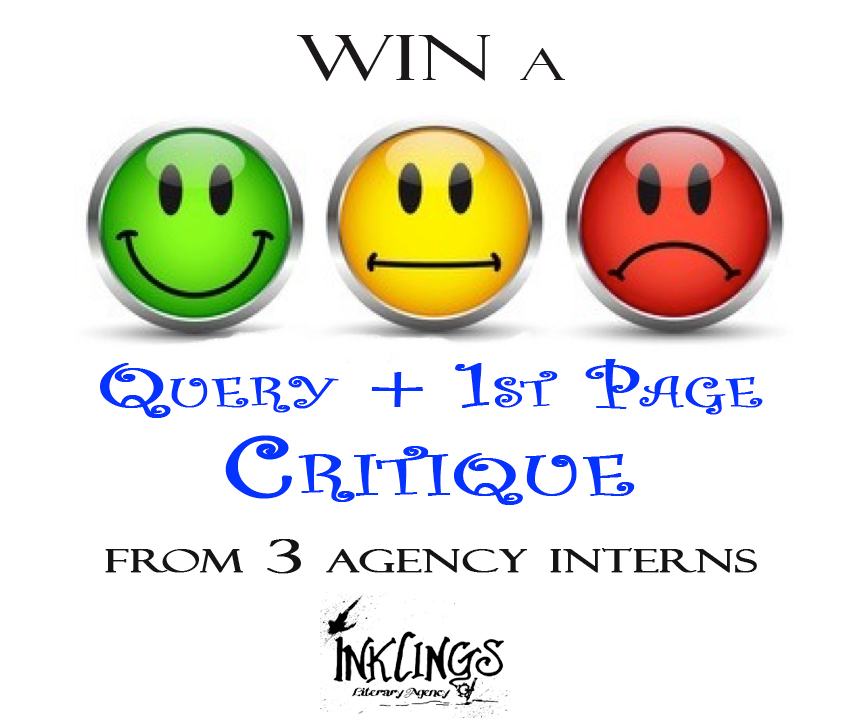 Win a query + 1st page critique from at least 3 agency interns!
Inklings Literary Agency interns are giving away a critique of a query plus first 250 words to FIVE lucky winners! Each winning author will get at least 3 critiques, which means 3 points of view on their work from folks who love love love books and who've worked alongside agents for months. Many of these interns are published authors themselves! And as a special bonus, I heard there may be an Inklings agent critiquing a few of the winning entries as well! So exciting!
This is a great opportunity to get a final polish on your entry for upcoming contests like Query Kombat and PitchWars!
🙂 Be sure to download the Inklings Writing Tips Handout to help you tighten your copy 🙂
And check out this awesome checklist on self-editing: https://thewritelife.com/edit-your-copy/
Thank you so much for swinging by and good luck!
---
20 Current Giveaways on this Blog!

---
Win over $300 in bookish prizes in these current giveaways. But hurry! Some are ending soon!
Note: CM McCoy's Contest Policy applies. Rafflecopter terms and conditions also apply. No Purchase necessary to enter. Void where prohibited.
Kindle Paperwhite Giveaway: http://www.cmmccoy.com/blog/kindle-paperwhite-giveaway
Kindle Fire (ends 30 Apr): http://www.cmmccoy.com/blog/3311-2/
Amazon Fire TV Stick: http://www.cmmccoy.com/blog/fire-tv-stick-giveaway-first-pages-feature-with-laura-heffernan
$30 Book Shopping Spree: http://www.cmmccoy.com/blog/review-giveaway-belle-by-cameron-dokey-a-retelling-of-beauty-and-the-beast-once-upon-a-time
$25 Gift Card: http://www.cmmccoy.com/blog/giveaway-rts-spooky-ya-authors-part-1
$20 Gift Card (ends 5 May): http://www.cmmccoy.com/blog/cover-reveal-giveaway-mistaken-identity-by-mc-jackson-romantic-suspense/
$10 Gift Card, Choice of Book, AND Trendy Spring Scarf: http://www.cmmccoy.com/blog/giveaway-hoppy-easter-eggstravaganza-blog-hop/
$10 Gift Card + Signed Copy of DESIRES by Roxanna Rose: http://www.cmmccoy.com/blog/spotlight-giveaway-ya-spooky-slumber-party-at-rt-part-3
$10 Amazon Gift Card: http://www.cmmccoy.com/blog/cover-reveal-giveaway-it-had-to-be-you-by-lizzy-charles-ya-romance/
EPIC FAIL (Paperback) by Claire LaZebnik: http://www.cmmccoy.com/blog/review-giveaway-things-i-should-have-known-by-claire-lazebnik
Courage Pendant: http://www.cmmccoy.com/blog/review-giveaway-straight-by-seth-king-18-gay-romance/
BEASTLY paperback: http://www.cmmccoy.com/blog/review-giveaway-beastly-by-alex-flinn-ya-fairy-tale-retelling
Paranormal University Survival Kit: http://www.cmmccoy.com/blog/news-giveaway-pitchwars-roadshow-and-ya-spooky-slumber-party
THE GLITTERING COURT: http://www.cmmccoy.com/blog/review-giveaway-the-glittering-court-by-richelle-mead-ya-fantasy-romance
Choice of ANY book mentioned on this blog: http://www.cmmccoy.com/blog/review-giveaway-dont-you-cry-by-mary-kubica-thriller
Alaska's North Pole Coffee Company Coffee Candy (Mocha Coffee Beans): http://www.cmmccoy.com/blog/review-giveaway-daddy-dearest-by-paul-southern-psychological-thriller
Angel Perfume Decanter Necklace: http://www.cmmccoy.com/blog/review-giveaway-birthright-by-jessica-ruddick-ya-paranormal
CHARMING by Elliott James (Paperback): http://www.cmmccoy.com/blog/release-day-giveaway-legend-has-it-by-elliott-james-urban-fantasy
Celtic Leather Bracelet: http://www.cmmccoy.com/blog/cover-reveal-giveaway-blue-bottle-tree-by-beaird-glover-ya-paranormal
THE CHEMIST (paperback) by Stephanie Meyer: http://www.cmmccoy.com/blog/review-giveaway-chemistry-by-c-l-lynch-ya-paranormal-romance