Young Adult / Teen Paranormal Romance

Publisher: Jessica Ruddick Books LLC
Release Date: 23 November 2016


He loves her for her BRAINS.
"…funny and irreverent." (Foreword Reviews)
"…awesomely sarcastic and completely witty." (YA Books Central)
Stella Blunt's world is ending. Her parents have dragged her across the country, and she has to start over in a new school. This is a big problem, because she doesn't make friends easily: she's large, she's loud, and she doesn't suffer fools gladly.
Within days, Stella has alienated half the school. Only one person seems to like her: Howard Mullins, the shy geek in her Chemistry class. He's the biggest loser in school, but he's a great listener, he's smart at science, and he loves her for her mind. Then again, he drinks brains from a thermos and walks with a lurch.
Now undead hordes are showing up at her door, and Howard Mullins might be to blame. Can Stella manage the bullies, figure out her complicated love life, and handle a chainsaw?
Chemistry is an uproarious zombie romantic comedy with a surprising amount of heart, intended for older teen and new adult readers. If you liked Warm Bodies, you'll adore this girl-powered, irreverent twist on Twilight from C.L. Lynch, who thinks zombies and big girls deserve love, too.
---
About the Author

---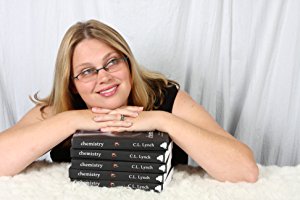 C.L. Lynch is a socially awkward introvert living in Vancouver, B.C. with her family and too many unwashed dishes. She enjoys smashing tropes and hiding from adult responsibilities.
For more about Chemistry and her upcoming books check out www.cllynch.com
---
Review by Wendy



---

Light-hearted, fun and charming!
CHEMISTRY by C.L. Lynch is the first book in the Stella Blunt series. It's a YA, romantic comedy, told in first-person past tense, with a bit of horror and a lot of explicit language. Due to language and the sheer number of f-words, this book may not be suitable for readers under 16.
Stella Blunt has never fit in. She's overweight, under-confident, and she has some serious anger management issues. It took her years to make two friends at her previous school and now her parents are moving her to Vancouver. She's dreading the torment she'll likely receive at her new school, and sure enough, during the first class of her first day, she is literally being drooled over by the biggest loser in the school. Then after a cheating scandal with one of the popular girls, she can't walk down the halls without being verbally assaulted.
Howie, the drooling boy, has decided that Stella is the most perfect creature on the planet. He will do anything to be with her, and he doesn't listen when she continually tells him to go away. When he finally wears her down and she lets him in, she finds out that he has a big secret–he may not be entirely human.
I loved this book. It was so silly and fun and sometimes that is the perfect read. This book was a play on the Twilight Saga, right down to the brilliant cover. Instead of the pale vampire hands holding an apple, it's pale zombie hands holding a human heart. The main character is Stella instead of Bella and her love interest is Howard Mullins. Although some of the circumstances are similar, (ie. Stella moves to a new school, the two meet in science class, there's a school dance, a fortuitous meeting in a book store, and a supernatural hero) the characters and specific details are not. Stella is not a popular girl and tends to yell throughout the majority of the book. I could have done with a bit less of that but it didn't take away from my enjoyment. Howie's idiosyncrasies leave him friendless apart from his brother and sister who also attend the high school.
The story moves from Stella's abuse of Howie to a serious love connection. Then to an apocalyptic event that may not only mark the end of Stella's relationship, but may also mark the end of her life. Although there are these overt similarities to Twilight, this felt like an entirely different story with endearing characters that I could relate to considerably easier than the sparkly vampires.
This book earns 4 North of Normal stars. I cannot wait for the next book entitled HISTORY. CHEMISTRY ended with a sneak peek that promises another hilarious and fun read.


---
New Giveaway!



---
THE CHEMIST (paperback) by Stephanie Meyer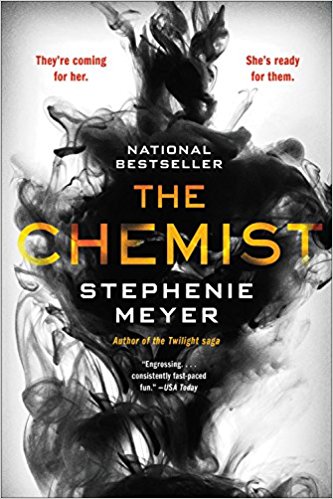 Note: CM McCoy's Contest Policy applies. Rafflecopter terms and conditions also apply. No Purchase necessary to enter. Void where prohibited.
---
20+ Current Giveaways on this Blog!

---
Win over $300 in bookish prizes in these current giveaways. But hurry! Some are ending soon!
Note: CM McCoy's Contest Policy applies. Rafflecopter terms and conditions also apply. No Purchase necessary to enter. Void where prohibited.
Kindle Paperwhite Giveaway: http://www.cmmccoy.com/blog/kindle-paperwhite-giveaway
Kindle Fire (ends 30 Apr): http://www.cmmccoy.com/blog/3311-2/
Amazon Fire TV Stick: http://www.cmmccoy.com/blog/fire-tv-stick-giveaway-first-pages-feature-with-laura-heffernan
$30 Book Shopping Spree: http://www.cmmccoy.com/blog/review-giveaway-belle-by-cameron-dokey-a-retelling-of-beauty-and-the-beast-once-upon-a-time
$25 Gift Card: http://www.cmmccoy.com/blog/giveaway-rts-spooky-ya-authors-part-1
$10 Gift Card, Choice of Book, AND Trendy Spring Scarf: http://www.cmmccoy.com/blog/giveaway-hoppy-easter-eggstravaganza-blog-hop/
$10 Gift Card + Signed Copy of DESIRES by Roxanna Rose: http://www.cmmccoy.com/blog/spotlight-giveaway-ya-spooky-slumber-party-at-rt-part-3
$10 Amazon Gift Card: http://www.cmmccoy.com/blog/
EPIC FAIL (Paperback) by Claire LaZebnik: http://www.cmmccoy.com/blog/review-giveaway-things-i-should-have-known-by-claire-lazebnik
Courage Pendant: http://www.cmmccoy.com/blog/review-giveaway-straight-by-seth-king-18-gay-romance/
BEASTLY paperback: http://www.cmmccoy.com/blog/review-giveaway-beastly-by-alex-flinn-ya-fairy-tale-retelling
Paranormal University Survival Kit: http://www.cmmccoy.com/blog/news-giveaway-pitchwars-roadshow-and-ya-spooky-slumber-party
THE GLITTERING COURT: http://www.cmmccoy.com/blog/review-giveaway-the-glittering-court-by-richelle-mead-ya-fantasy-romance
Choice of ANY book mentioned on this blog: http://www.cmmccoy.com/blog/review-giveaway-dont-you-cry-by-mary-kubica-thriller
Alaska's North Pole Coffee Company Coffee Candy (Mocha Coffee Beans): http://www.cmmccoy.com/blog/review-giveaway-daddy-dearest-by-paul-southern-psychological-thriller
Angel Perfume Decanter Necklace: http://www.cmmccoy.com/blog/review-giveaway-birthright-by-jessica-ruddick-ya-paranormal
CHARMING by Elliott James (Paperback): http://www.cmmccoy.com/blog/release-day-giveaway-legend-has-it-by-elliott-james-urban-fantasy
Celtic Leather Bracelet: http://www.cmmccoy.com/blog/cover-reveal-giveaway-blue-bottle-tree-by-beaird-glover-ya-paranormal
THE CHEMIST (paperback) by Stephanie Meyer: http://www.cmmccoy.com/blog/review-giveaway-chemistry-by-c-l-lynch-ya-paranormal-romance