Teen/Young Adult Contemporary

Publisher: Bookouture
Release Date: 21 Apr 2017


There are going to be so many things I wish I could've told you in person, Poppy. I won't get the chance to do that, so perhaps this is my only way…
It's Poppy Kinsey's birthday.
She should be blowing out candles and opening presents – but hers falls on the type of heart-wrenching, agonising anniversary she would far rather forget.
The worst day of them all. The day her mother died.
But this year is special because the person she misses most in the world has left her a set of letters, one for each of her next ten birthdays.
As Poppy opens them year by year, she discovers that no matter how tough life gets, her mum will always be by her side, guiding her along the way.
Fans of Cecelia Ahern and S.D. Robertson will love this page turning tear-jerker about making every moment count.
---
About the Author

---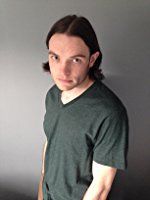 Kerry Wilkinson has been busy since turning thirty.
His first Jessica Daniel novel, Locked In (known as The Killer Inside in the United States), is a number one ebook bestseller, while the series as a whole has sold more than a million copies.
He has written a fantasy-adventure trilogy for young adults, a second crime series featuring private investigator Andrew Hunter, plus the standalone thrillers, Down Among The Dead Men and No Place Like Home.
Originally from the county of Somerset, Kerry has spent far too long living in the north of England, picking up words like 'barm' and 'ginnel'.
When he's short of ideas, he rides his bike or bakes cakes. When he's not, he writes it all down.
---
Review by eKelly

---

Sad, heartfelt, uplifting, and wonderful!
TEN BIRTHDAYS by Kerry Wilkinson is a teen contemporary novel.
Kerry Wilkinson is a new author to me. I scored a copy of this book from the publisher via NetGalley based on the premise and the beautiful cover, and I'm so glad they approved my request!
This blurb promised I would find an emotional, uplifting book about love, loss, and hope and it definitely delivered just that.
Poppy Kinsey's 16th birthday falls on the anniversary of her mother's death. While most kids are excited to eat birthday cake and open presents, Poppy would rather avoid the day altogether. She doesn't want a party, and she definitely doesn't want visitors over celebrating. This birthday turns out to be very special though. Her father reveals that her mom has left her 10 letters, one of which she will open on each of her next 10 birthdays. Each year Poppy opens a letter, and her mother's heart and wisdom pours from her words to guide Poppy through the challenges in life. From these letters, Poppy learns of her mother's past and most importantly how to live life to the fullest.
I read this book in two days! This is one of those books that sticks with you, and I won't forget it anytime soon. It's a ten-chapter book, with each chapter covering one of Poppy's birthdays and the events leading up to and after her opening her mom's birthday letter. What's so special about this story is her mom's letters always seems to address exactly what's going on in Poppy's life; whether that's mediocre grades at school, lack of motivation, self-esteem issues, friend problems, or love problems.
The character development is also rich. I really felt I was in Poppy's shoes, feeling her struggles as she navigates her teenage and young adult years.  Poppy has two best friends Mark and Feya, who stole my heart but also frustrated me to no end. Both have a different but substantial impact on Poppy's life through these 10 years.
This is a heartfelt story that runs the gambit of emotions from high highs to low lows. The sad parts aren't necessarily tearjerkers, but they definitely pulled my heart strings. This is set in England, and the author is clearly British, so some words may be confusing to readers unfamiliar with UK colloquialisms, such as the loo, aka restroom. I can't compare this story to anything else I've ever read, but the book's blurb does indicate it may appeal to fans of Cecelia Ahern and S.D. Robertson. I recommend this for readers over the age of 14.



---
Featured Giveaway!

---
$30 Book Shopping Spree

Note: CM McCoy's Contest Policy applies. Rafflecopter terms and conditions also apply. No Purchase necessary to enter. Void where prohibited.
a Rafflecopter giveaway

---
20 Current Giveaways on this Blog!

---
Win over $300 in bookish prizes in these current giveaways. But hurry! Some are ending soon!
Note: CM McCoy's Contest Policy applies. Rafflecopter terms and conditions also apply. No Purchase necessary to enter. Void where prohibited.
Kindle Paperwhite Giveaway: http://www.cmmccoy.com/blog/kindle-paperwhite-giveaway
Kindle Fire (ends 30 Apr): http://www.cmmccoy.com/blog/3311-2/
Amazon Fire TV Stick: http://www.cmmccoy.com/blog/fire-tv-stick-giveaway-first-pages-feature-with-laura-heffernan
$30 Book Shopping Spree: http://www.cmmccoy.com/blog/review-giveaway-belle-by-cameron-dokey-a-retelling-of-beauty-and-the-beast-once-upon-a-time
$25 Gift Card: http://www.cmmccoy.com/blog/giveaway-rts-spooky-ya-authors-part-1
$10 Gift Card, Choice of Book, AND Trendy Spring Scarf: http://www.cmmccoy.com/blog/giveaway-hoppy-easter-eggstravaganza-blog-hop/
$10 Gift Card + Signed Copy of DESIRES by Roxanna Rose: http://www.cmmccoy.com/blog/spotlight-giveaway-ya-spooky-slumber-party-at-rt-part-3
ROYAL BASTARDS (hardcover): http://www.cmmccoy.com/blog/review-giveaway-royal-bastards-by-andrew-shvarts
BEAUTY AND THE BEAST book of choice: http://www.cmmccoy.com/blog/sunday-fun-day-giveaway/
White Gold Plated/Crystal 4-Heart Clover Necklace: http://www.cmmccoy.com/blog/review-giveaway-famous-by-default-by-m-k-harkins-ya-romance
EPIC FAIL (Paperback) by Claire LaZebnik: http://www.cmmccoy.com/blog/review-giveaway-things-i-should-have-known-by-claire-lazebnik
Courage Pendant: http://www.cmmccoy.com/blog/review-giveaway-straight-by-seth-king-18-gay-romance/
BEASTLY paperback: http://www.cmmccoy.com/blog/review-giveaway-beastly-by-alex-flinn-ya-fairy-tale-retelling
Paranormal University Survival Kit: http://www.cmmccoy.com/blog/news-giveaway-pitchwars-roadshow-and-ya-spooky-slumber-party
THE GLITTERING COURT: http://www.cmmccoy.com/blog/review-giveaway-the-glittering-court-by-richelle-mead-ya-fantasy-romance
Choice of ANY book mentioned on this blog: http://www.cmmccoy.com/blog/review-giveaway-dont-you-cry-by-mary-kubica-thriller
Alaska's North Pole Coffee Company Coffee Candy (Mocha Coffee Beans): http://www.cmmccoy.com/blog/review-giveaway-daddy-dearest-by-paul-southern-psychological-thriller
Angel Perfume Decanter Necklace: http://www.cmmccoy.com/blog/review-giveaway-birthright-by-jessica-ruddick-ya-paranormal
CHARMING by Elliott James (Paperback): http://www.cmmccoy.com/blog/release-day-giveaway-legend-has-it-by-elliott-james-urban-fantasy
---