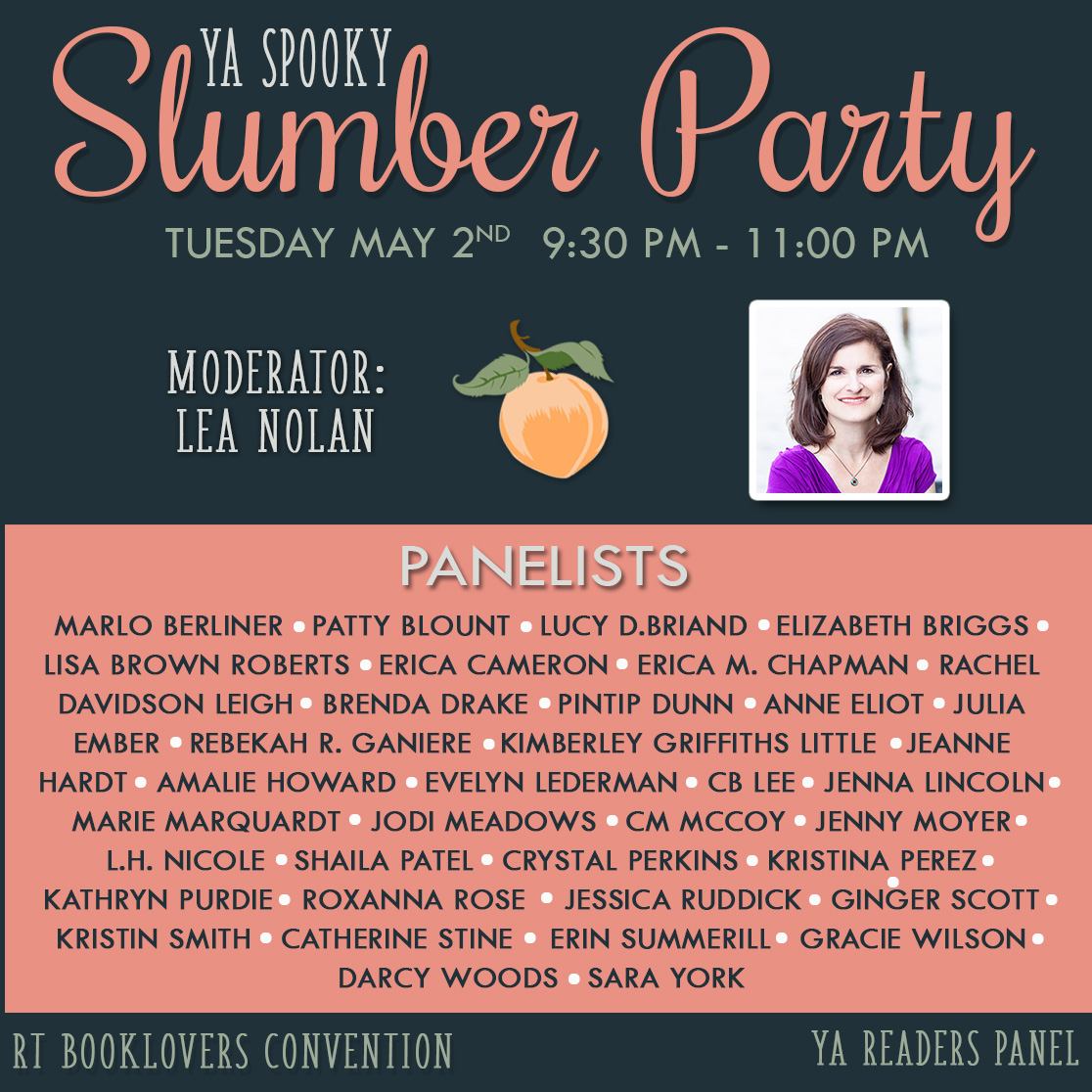 The 2017 RT Booklover's Convention in Atlanta is May 2-7, and I will be all over the place with a TON of giveaways and my dancing shoes! There are two events where you can definitely find me: 1) the YA Spooky Slumber Party, and 2) the #PitchWars Road Show.
Between fan-girling over the awesome authors, meeting with readers, and taking pitches from authors with agent Michelle Johnson, I hope to meet as many fellow booklovers as humanly possible! If you're going to the convention, send me a note (colleen (at) cmmccoy.com). I'd love to meet up for drinks, dancing, book-gushing, EL James hunting, etc 🙂
(Seriously, I tracked her down at RT last year, and this year, I badly BADLY want my copy of GREY signed <3 )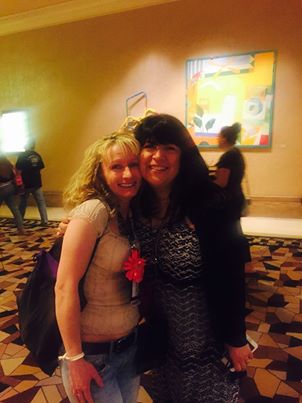 So many awesome authors will be milling around!
I asked the other Spooky YA authors of RT to share their favorite creepy book or movie with us. Here's part two of those spooky recommendations.
Find part one by clicking here, and enter my $25 Book Shopping Spree at the bottom of the part one post
At the bottom of THIS post, you'll find a Paranormal University Survival Kit Giveaway which includes an Alaska purse, an Alaska Paranormal University t-shirt, and some awesome Alaska and paranormal swag 😀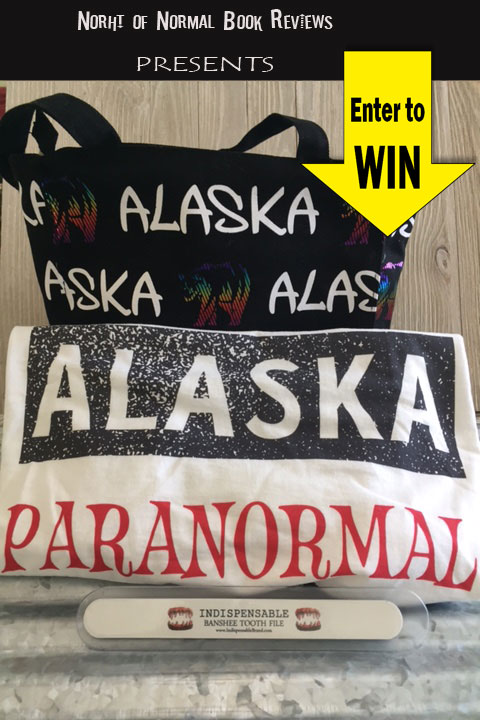 Meet some Spooky YA Authors
---
---
CM McCOY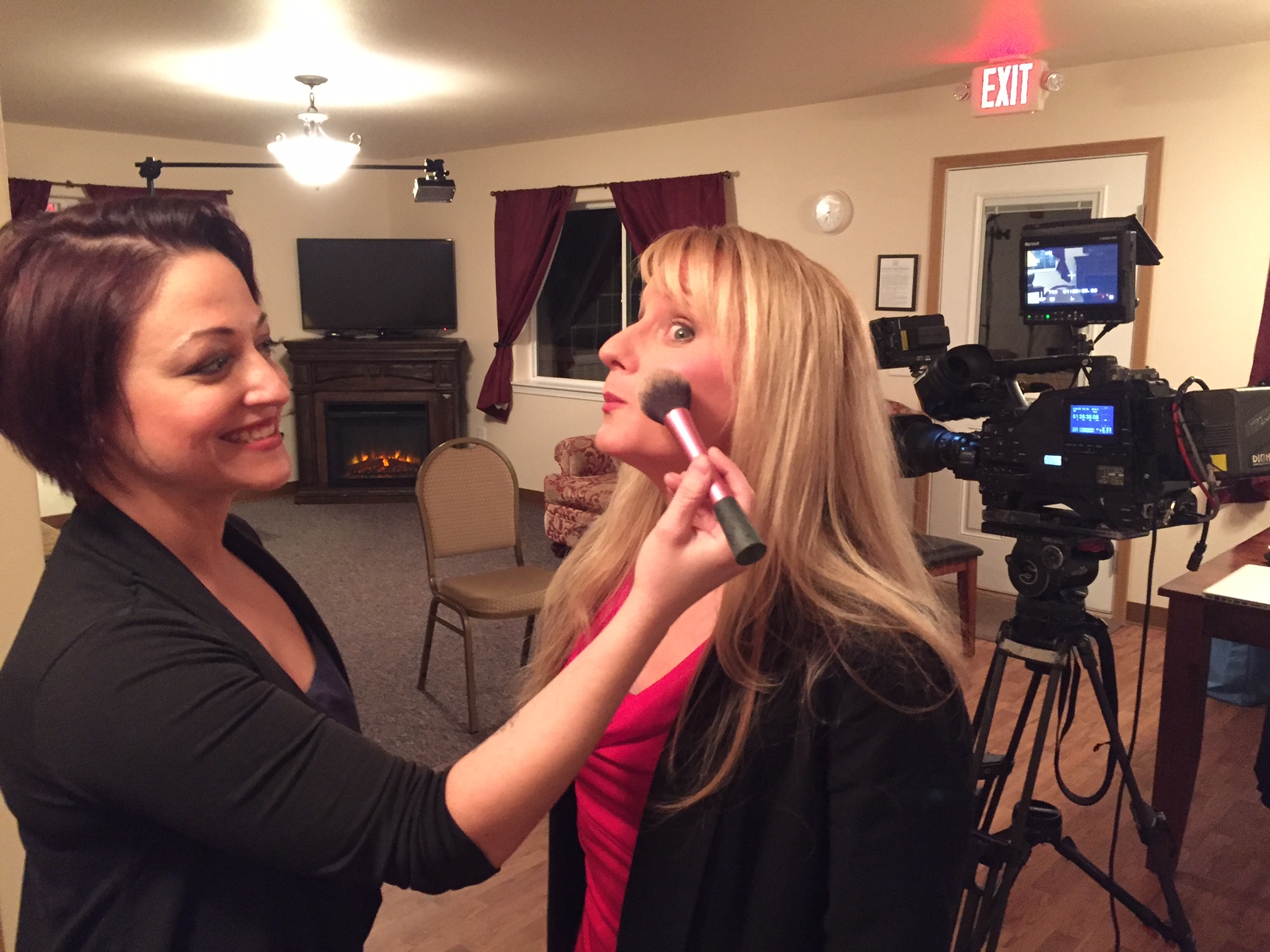 In addition to the most creepy zombie movie of all time (see the first spooky YA post), my other favorite creepy movie to avoid is Poltergeist. Holy schittskis I still can't watch that movie. Maybe its because it seems too likely to happen in my own house, or maybe it's the creepy damn clown, or that horrible tree that made me hate tent camping for years after (there's a reason there are man-eating trees in EERIE, and Poltergeist is IT!)

---
Colleen's Spooky YA Book: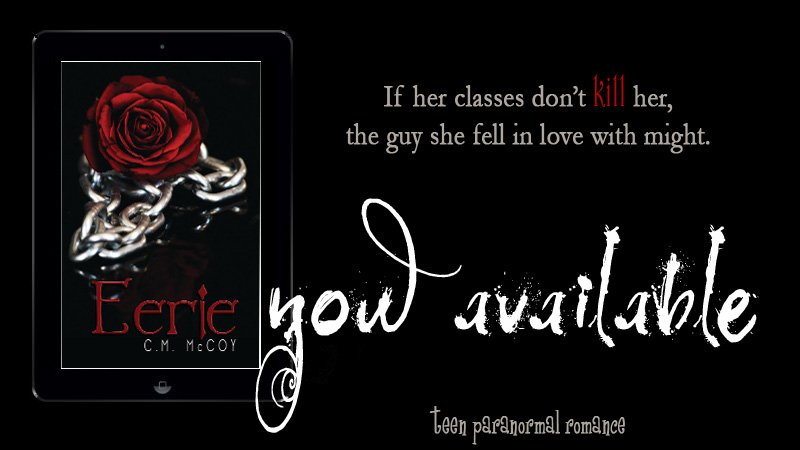 EERIE
by CM McCoy
Teen/YA Paranormal
$0.99 Kindle Sale till 27 Mar
http://amzn.to/2lIsJMG


The sensational teen paranormal romance featured in PEOPLE Magazine and on INSIDE EDITION!
Hailey Hartley has just enrolled in the world's premier supernatural university. It's a school she's never heard of, located in a town called The Middle of Nowhere, and run by a creature that's not supposed to exist. But at least she got a scholarship…
Hailey's dreams have always been, well…vivid. As in monsters from her nightmares follow her into her waking life vivid. When her big sister goes missing, eighteen-year-old Hailey finds only one place offers her answers–a paranormal university in Alaska. There, she studies the science of the supernatural and must learn to live with a roommate from Hell, survive her otherworldly classes, and hope the only creature who can save her from an evil monster doesn't decide to kill her himself.
---
---
ERICA CAMERON

One of the best horror movies I've seen recently is called EVIDENCE. It's pretty bloody, but the twist at the end was incredibly well done!
---
Erica's Intriging Novel: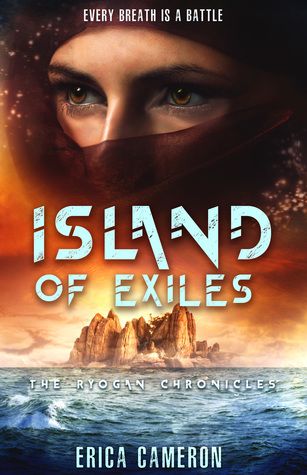 ISLAND OF EXILES
by Erica Cameron
Teen/YA Romantic Fantasy
$5.99 Kindle edition


In this diverse, gritty survival fantasy, a girl warrior turns against her island clan to find the brother they claim died, uncovering secrets. Perfect for fans of Graceling and Snow Like Ashes.
In Khya's world, every breath is a battle.
On the isolated desert island of Shiara, dying young is inevitable. The clan comes before self, and protecting her home means Khya is a warrior above all else.
But when following the clan and obeying their leaders could cost her brother his life, Khya's home becomes a deadly trap. The only person who can help is Tessen, her lifelong rival and the boy who challenges her at every turn. The council she hoped to join has betrayed her, and their secrets, hundreds of years deep, reach around a world she's never seen.
To save her brother's life and her island home, her only choice is to trust Tessen, turn against her clan, and go on the run—a betrayal and a death sentence.
---
---
PATTY BLOUNT

My favorite spooky movie is Paranormal Activity. All of them! But especially the one with the two little girls. Whoa. Super scary.
*note from CM McCoy: I plan on pestering Patty for a 1st Pages feature on this blog until she either blocks me or acquiesces. Wish me luck!
---
 Patty's Must-read YA: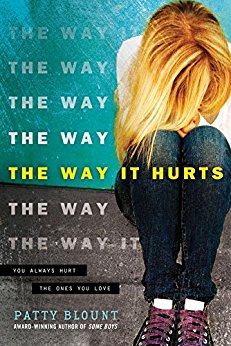 THE WAY IT HURTS
by Patty Blount
Teen/YA Contemporary (Bullying)
$6.42 Pre-order sale (Paperback)


There may be two sides to every story, but sometimes there's only one way to set things right…
Music is Elijah's life. His band plays loud and hard, and he'll do anything to get them a big break. He needs that success to help take care of his sister, who has special needs. So he'd rather be practicing when his friends drag him to a musical in the next town…until the lead starts to sing.
Kristen dreams of a career on stage like her grandmother's. She knows she needs an edge to get into a competitive theater program–and being the star in her high school musical isn't going to cut it. The applause and the attention only encourage her to work harder.
Elijah can't take his eyes off of Kristen's performance, and snaps a photo of her in costume that he posts online with a comment that everybody misunderstands. It goes viral. Suddenly, Elijah and Kristen are in a new spotlight as the online backlash spins out of control. And the consequences are bigger than they both could have ever imagined because these threats don't stay online…they follow them into real life.
---
---
JENNA LINCOLN

My favorite scary tv show is Supernatural. Across the seasons the writers have hit every horror trope but they still manage to work in some humor and lots of hat tips to the fans.
Jenna's Spine-tingling Tale: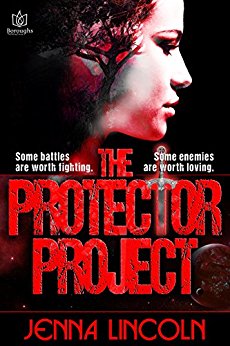 THE PROTECTOR PROJECT
by Jenna Lincoln
Teen/YA Military Fantasy
$4.99 Kindle edition

Teen soldier Mara de la Luz is about to find out what makes her so special that some would kidnap and kill her—and others, willingly die for her.
ENDLESS CARNAGE. ENDLESS QUESTIONS.
Mara is a 17-year-old soldier who's spent years fighting a war that's lasted generations. Wide-eyed children, some just turned thirteen, rarely survive their first fights despite her best efforts to train and lead them. What she thinks she wants is to uncover the root causes of the war between the Protectors and the masked Gaishan, maybe find a way to end it. But what she really wants is a future—for herself and the others—beyond the battlefield.
Then she's injured in combat, and when an enemy fighter not only heals her wounds but reveals his face, she sees the promise of all she desires. This cunning teen Gaishan has answers to her questions, but first she must commit treason and travel beyond the boundaries of her world. She must brave a place where everything rests on the point of a blade: her loyalties, her friends, her heart.
---
New Giveaway!
---
Paranormal University Survival Kit Giveaway

Note: CM McCoy's Contest Policy applies. Rafflecopter terms and conditions also apply. No Purchase necessary to enter. Void where prohibited.
---
Other Current Giveaways
---
Win over $300 in bookish prizes in these current giveaways. But hurry! Some are ending soon!
Note: CM McCoy's Contest Policy applies. Rafflecopter terms and conditions also apply. No Purchase necessary to enter. Void where prohibited.
Kindle Paperwhite Giveaway: http://www.cmmccoy.com/blog/kindle-paperwhite-giveaway
Amazon Fire TV Stick: http://www.cmmccoy.com/blog/fire-tv-stick-giveaway-first-pages-feature-with-laura-heffernan
$30 Book Shopping Spree: http://www.cmmccoy.com/blog/review-giveaway-belle-by-cameron-dokey-a-retelling-of-beauty-and-the-beast-once-upon-a-time
$25 Gift Card: http://www.cmmccoy.com/blog/giveaway-rts-spooky-ya-authors-part-1
$10 Gift Card: http://www.cmmccoy.com/blog/review-giveaway-the-hereafter-by-jessica-bucher-college-paranormal-romance
ROYAL BASTARDS (hardcover): http://www.cmmccoy.com/blog/review-giveaway-royal-bastards-by-andrew-shvarts
WRECK THIS JOURNAL: http://www.cmmccoy.com/blog/review-giveaway-openly-straight-by-bill-konigsberg/
BEAUTY AND THE BEAST book of choice: http://www.cmmccoy.com/blog/sunday-fun-day-giveaway/
White Gold Plated/Crystal 4-Heart Clover Necklace: http://www.cmmccoy.com/blog/review-giveaway-famous-by-default-by-m-k-harkins-ya-romance
EPIC FAIL (Paperback) by Claire LaZebnik: http://www.cmmccoy.com/blog/review-giveaway-things-i-should-have-known-by-claire-lazebnik
GEOGRAPHY CLUB (Paperback) by Brent Hartinger: http://www.cmmccoy.com/blog/review-giveaway-boy-meets-boy-by-david-levithan-teen-lgbt-romance
Courage Pendant: http://www.cmmccoy.com/blog/review-giveaway-straight-by-seth-king-18-gay-romance/
BEASTLY paperback: http://www.cmmccoy.com/blog/review-giveaway-beastly-by-alex-flinn-ya-fairy-tale-retelling
Paranormal University Survival Kit: http://www.cmmccoy.com/blog/news-giveaway-pitchwars-roadshow-and-ya-spooky-slumber-party